Dear JSL,
Two weeks ago, your class started a transportation theme. During this time, you made your own blue car, played with boats, washed cars in a car wash, designed your own train, and many other items.
There was also a giant class project. Last week, your teacher called one night to ask that you go to school in clothing for some major painting. We had that set, but forgot about your brand new white sneakers. Thank goodness your teacher from last year had rain boots that you could use for painting. When we got into school, there was a giant cardboard box on a plastic tarp. As soon as I saw the box, I had a feeling I knew what it was about to become.
This Tuesday, we walked into your classroom to see the finished project. It was an amazing creation. It had windshield wipers, wheels, headlights, the stop sign for cars, a door, and more.
When we looked closer there was even a steering wheel and a seat for the bus driver. I have a feeling all of you must have had a great time going inside the bus together to sing The Wheels on the Bus as a group.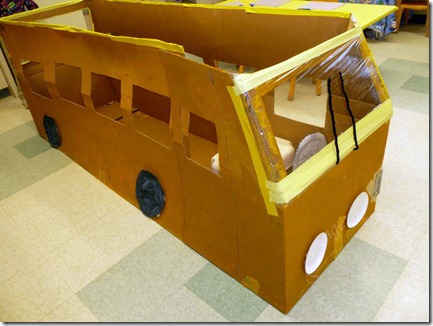 Of course, once I had the camera out to capture these photos, I had to get one with you next to the bus.
I know you loved this unit because of all of the fun items and you learned so much. I was so surprised to hear that you went on a real bus to check it out. You have grown up and I keep trying to forget that soon you will be heading off to kindergarten. Keep learning, growing, and sharing all that you do each day with me.
Love,
Mommy