Wednesday, I likely confused some members of my family if they stopped by my website. First, they would have seen this: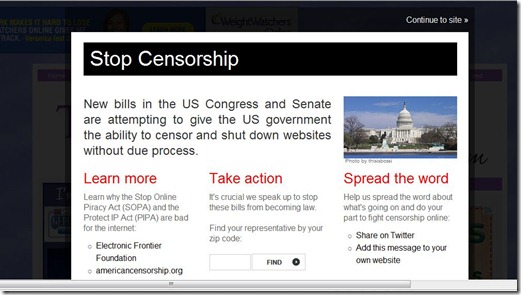 This was a widget for WordPress that TechyDad and I placed on our blogs to show support against the new bills that the US Congress and Senate are trying to put on the books. We really liked that this would help to inform people about what these bills will do to the average American – including bloggers like us. If you continued to my blog, this was at the top over my header/logo:

I did not blackout my website like Wikipedia, Reddit, and others. Instead, I did not post new content during the blackout period and had this information to educate people about the cause. If you look up in the right corner, I now have a Stop SOPA ribbon.
As someone who has had her content copied and used without my permission, I get that piracy is not ok. The problem is that SOPA and PIPA go far above and beyond that. Oh and IF you have seen the commercials promoting these bills – they are horrid. Scare tactics against citizens without all of the information is unacceptable. Here check it out (commercial begins at :29 mark):
For more information, please head over to read TechyDad's post about the legislation.
So my question to you this week:
Did you blackout your website on Wednesday? I would also like to know why you opted with your choice. Please remember to make some noise and contact your representatives in Congress and Senate to let them know that censorship is NOT acceptable. We need to kill these bills and revamp to properly stop piracy.

___________________________________________________________________________
Thanks to Kailani at An Island Life for starting this fun for Friday. Please be sure to head over to her blog to say hello and sign the linky there if you are participating.
Aloha #187