Everyone knows that Valentine's Day is coming in a little under a month. During that time, we often think about the ones that we love to hug. There will be lots of hearts, hugs, kisses, special notes to those that we love, and more.
Did you know that this Saturday, Jan 21, is National Hug Day? It is and it seemed like a great time to share a new book that I reviewed by Phillis Gershator and her mother Mim Green called Time for a Hug. Once I started to read and they saw the illustrations from David Walker, they were hooked.
Too often, we forget about the simple things in life and never stop even for a brief second to enjoy them with our children. Before we know it, they grow up before our eyes. In Time for a Hug, we are reminded that there is never a wrong time to pause for a bit and enjoy a hug with someone special. In this tale, we go from sunrise to sunset with Little Bunny. As we watch Little Bunny get dresses, eat meals, play, and go about the day – there is always time to stop for a special hug no matter the hour.
Toddlers and preschoolers will appreciate the activities that Little Bunny does throughout the day. My youngest caught onto the rhythmic nature of the book and quickly jumped in every time I asked "What time is it?" within the story.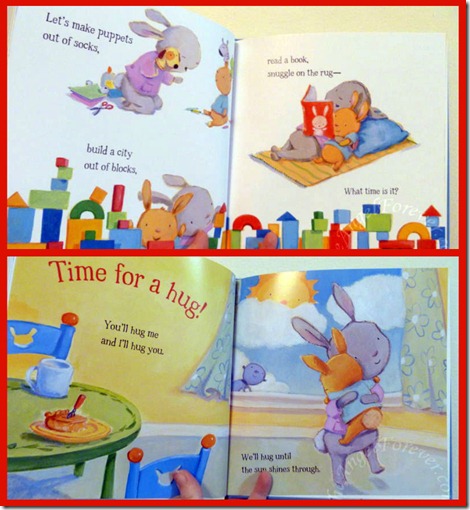 The beautiful illustrations from David Walker just melt your heart with the touching story from Phillis Gershator and Mim Green.
Time for a Hug – Written by Phillis Gershator and Mim Green – Illustrated by David Walker – Sterling Children's Books – January 2012 – ISBN 9781402778629 – $9.95 – Ages 3-5
With older children, I could see making crafts like a hug around the clock. For really crafty people, it could even be in a mobile form. Perhaps stopping each hour while your child is awake to have a hug and mark down on a heart what you are doing during that time (breakfast, taking a walk, building with Legos, or something else). Of course, you could also make a hug picture book and take photos of you and your little one each hour to make a special scrap book for Valentine's Day or just because. The possibilities are out there and so many great extensions of this book could be created with your own family.
What have you read recently? Please be sure to link up to your Book Posts in the comments below. Include something you read on your own, with a child or someone else. Tuesday Tales are all about spreading the love for books.

Disclosure: I received this book complimentary of Sterling Children's Books in order to facilitate this review. No other compensation was given. The opinions expressed in the review are my own. An Amazon Affiliate link is included where I will receive a percentage of money for the sale should you opt to buy the book mentioned.