Recently, we happened to stop at a Disney Store outlet. This is a huge thing for us since we no longer have a local Disney Store. While looking around, the mugs caught my eye. I liked several of them, but wanted to wait until we head to Walt Disney World to get anything. Then, I wandered over to the clearance section. A wall of left over mugs were there.
The mugs happened to be Disney characters that had been associated with signs of the zodiac and characteristics. Sure enough, there was one for me within the group.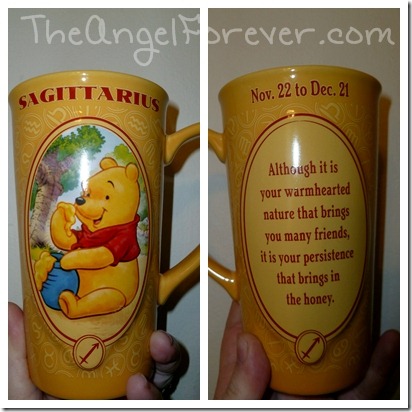 I have to admit that what sold me was the fact that Sagittarius was represented by Winnie the Pooh. Since it was an amazing price, I bought it to make me smile while driving my coffee.
When I got home and looked at it again, it got me thinking of my college days again. During that time, some friends and I had fun exploring horoscopes and more. It was just something that made us smile, laugh, and gave us something to chat about.
So my question to you this week:
Do you read horoscopes for fun? What sign are you and do you think you are like what they say represent?

___________________________________________________________________________
Thanks to Kailani at An Island Life for starting this fun for Friday. Please be sure to head over to her blog to say hello and sign the linky there if you are participating.
Aloha #196