Mother's Day is coming and TechyDad keeps asking me what I would like. To be honest, a nice quiet day with the boys is what I would really enjoy. Just doing something special that does not involve the circus like last year (we literally went to the circus). Of course, I know that we are trying to show the boys that we give some gifts to each other and they are not the only gift receivers. Two items that I have been thinking of were personalized cell phone case or a photo mug.
Thanks to a campaign from Global Influence, I now have a few new items that may be on my list. Shutterfly's collection of photo gifts has really grown. Of course, they have a great selection of mugs that you can personalize like this tiled one below. They also have a nice selection of iPhone cases, but nothing that will work with my Droid Bionic. Perhaps they would be good options for Father's Day for Papa.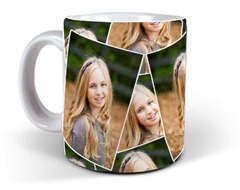 What I was not expecting were fun new bags, different wall art options, fleece blankets, personalized puzzles, and many other items. The new items within the photo gift section of their website has grown a lot in recent months.
With all of the sales right now, these photo gifts would not only make great Mother's Day presents, but also nice items to put away for Father's Day, graduation presents, birthdays, and beyond. To keep up on all that Shutterfly has to offer be sure to follow them on Facebook, Twitter, and Pinterest.
So, what are you asking your family to get you for Mother's Day? I would love to know what you have in mind. I think I am going to go for a fun new mug with photos from our upcoming trip to Disney World!

Disclosure: I wrote this post as part of a compensated Global Influence campaign. As someone who enjoys finding unique gifts for family and friends, I love the new selection of items that I will be able to pick from with my Shutterfly gift certificate.