Alright everyone, it's time to fess up on something. Do you often cringe when your child has the opportunity to pick something from a prize box? It may be a prize after having a shot at the doctor, doing something well at school, or trading tickets in at an arcade. Let's be real here – none of the prizes are usually meant to last forever and can often be annoying to those around them after they come home.
Case in point: This is a prize that my son picked our after an appointment the other day.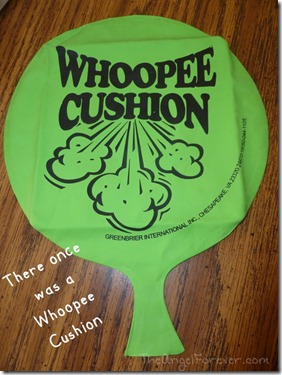 No, I am not kidding you. This came home with us and I cringed. I did not want to be THAT parent that said no, so I allowed it. Soon after we arrived at home, the fart jokes, loud blasts, and laughing began. It was cute at first, but then it got old quickly. This lead to me sending out a Tweet. The Tweet was replied to by Janice Person. As I was Tweeting, the boys were trying to figure out how to make a bigger, louder, and more impressive fart noise from said Whoopee Cushion.
Almost immediately after I sent that last Tweet out, I heard a giant BOOM from where the two boys were playing. I knew it was not a good sign, well not for the Whoopee Cushion at least. Tears, screams, and more Tweets followed.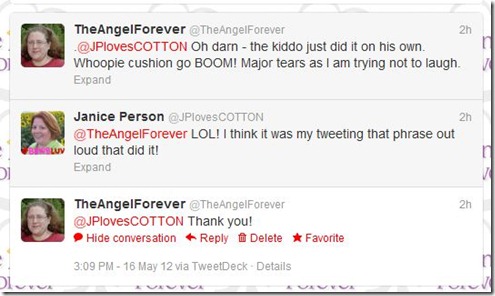 After the kids calmed down, and I gathered my composure back up I eventually took this photographic proof:
So my question to you this week:
What is the most annoying prize that that your child has ever won or received and why?

.
___________________________________________________________________________
Thanks to Kailani at An Island Life for starting this fun for Friday. Please be sure to head over to her blog to say hello and sign the linky there if you are participating.
Aloha #203