Everyone had been asking what JSL wanted for his fifth birthday. The reality is that he only asked for one item. We cringed at his one request, but figured that walkie talkies would be a lot of fun for the kids to use outside this summer.
We were left with no real ideas and relatives asking for suggestions. When my mother and I went shopping, something clicked while walking down an aisle. JSL has been asking for his kiddie scooter to ride. Unfortunately, it was not in the best of shape after two kids and he is just too big for it. Check out the birthday boy's face when he opened up his gift Monday afternoon: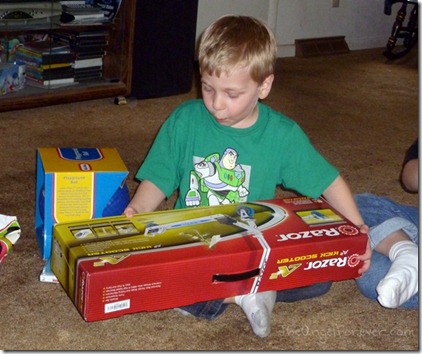 JSL was beyond excited to try out his new Razor Scooter. Thanks to rain most of the week, we never had a chance to do that. Yesterday, the weather was beautiful, so we packed up the box to take out and try with JSL's new helmet.
It truly was priceless watching JSL try to figure out where he wanted the handles, how to place his foot, and whether or not he was going too quickly. I do think he will be doing tricks before I know it since the kiddo has no fear and likes to try things other children are doing.
I guess I should enjoy this stage, especially thanks to the big smiles JSL provided from sheer happiness.
Yes, seeing my little guy smile made my entire day!