You know you are a child of the 1980's if you can remember playing Atari and Coleco Vision games. Enter Q-Bert, Donkey Kong, Frogger, and all of the old school game characters. Shortly later, Nintendo came into our gaming world. We met King Bowser, Link, and others.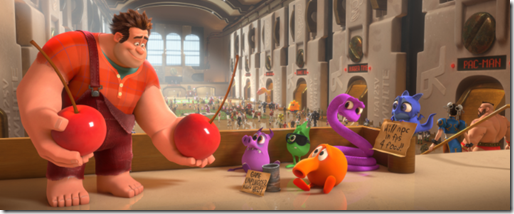 Welcome to the world of Wreck-It Ralph. Characters from our youth will be revived to meet our children and entertain families together. On November 2, 2012, Walt Disney Animation Studios will release their new movie that will take us on an arcade game playing journey. I had heard about this movie here and there, but I have to say that the trailer has me extremely excited to take my family to see this film. Here is the latest trailer to share.
We have all watched this over and over again. I know that we will be heading to the theater in November to check out the rest of Wreck-It Ralph's world. What is your favorite old school gaming character?

Disclosure: Disney PR notified me of the Wreck-It Ralph trailer.  I was not compensated for this and simply wanted to share since I adore all things Disney. You know we will be going to see Wreck-It Ralph when it is released November 2, 2012.