As a child that grew up in the 80's, a lot of the hot toys and shows are back. Let's take a stroll down memory lane. Imagine a world filled with clouds, rainbows, and cute bears with special symbols on their tummy. Do you know who I am talking about?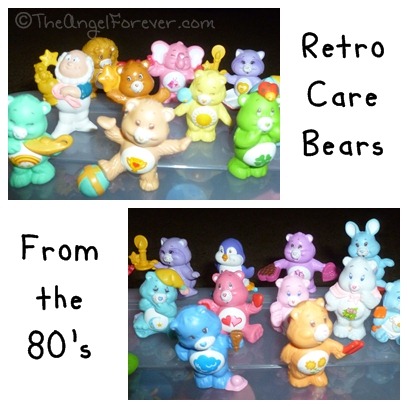 These Care Bears were the ones that my mother collected. I had several of the huggable bears, figures that would move, and their Cloudmobile (need to locate those). The grandkids adore playing with the ones that Nana still has. I am often quizzed to recall their names. Some I can recall, but others do escape me.
When I was contacted by Mom Select and MommyParties to host a Care Bears Welcome to Care-a-Lot viewing party for the new Care Bears show on the Hub, I jumped at the opportunity. I have two boys, but it was the chance to share part of my childhood memories with them.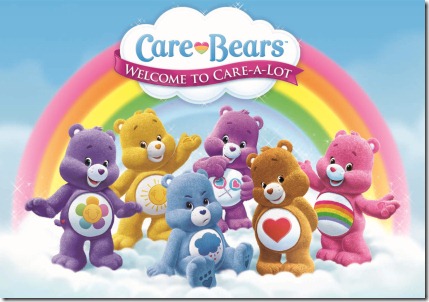 Our original party had to be rescheduled thanks to my little guy going to the ER. Now, we are attempting a redo with friends to share the new series with them. While JSL was not feeling well, we watched an episode that we had on our DVR together. My five year old son really enjoyed it. Check that, we both liked watching the Care Bears come to life in front of our eyes.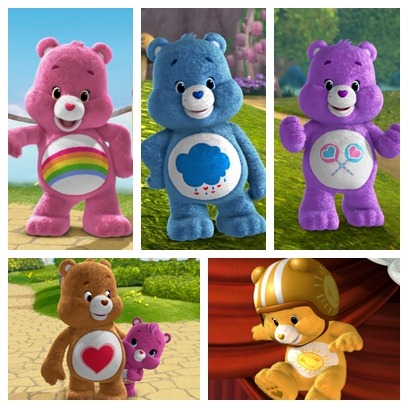 I remember watching the old Care Bears show and specials. At the time, they were really decent and we would watch them over and over with friends. The new series has fantastic animation and lessons to learn from. There is even a place to meet them on the official Hub website. I know we will be watching more of the Care Bears as the series has just begun and airs Saturday mornings on the hub at 8 am ET.
Now, it's time to fess up. Who is your favorite Care Bear? I think I still love my original Cheer Bear (the rainbow tummy up above), but Grumpy in the new series has a lot of spunk.

Disclosure: I was selected by MomSelect and Mommy Parties to host a "Care Bears: Welcome to Care-a-Lot" in home party. We received a DVD screener and media kit featuring stickers, crayons, activity sheets, and party ideas. The opinions are 100% mine and I received no other compensation.