As a little girl, my father introduced me to the joys of cake batter. I enjoyed that, even if we were warned about the danger of raw egg. Then something else came into my world. Cookie dough was even better to me. I loved the taste, the texture, and the flexibility. I was obviously not the only one that enjoyed cookie dough, Ben & Jerry's ice cream and then others added cookie dough to their repertoire and it became an instant hit.
One year, for my birthday (before kids), I asked TechyDad for a tub of cookie dough for my cake. Skip the other items, I wanted something that really called my name. Much to my surprise, he did this. It should not be a surprise that I have a Cookie Dough World board on Pinterest.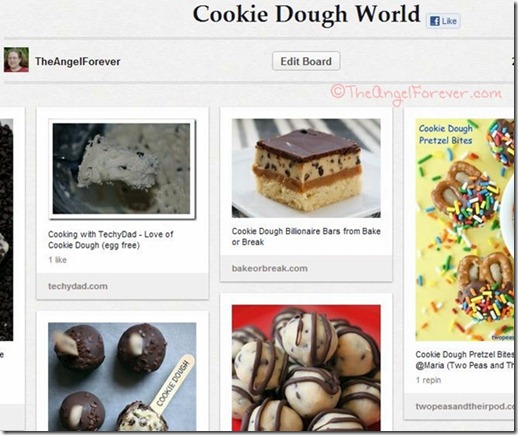 Recently, a lot of my pins were focusing on recipes by Lindsay Landis and her new The Cookie Dough Lover's Cookbook: Cookies, Cakes, Candies, and More
. I have to admit, just looking at the beautiful photos in the book kept me happy and content. One day, TechyDad made a batch of the egg-free raw cookie dough for us to try. It was delicious and I was thrilled. Then, for our anniversary, he bought me the book.
I am definitely intrigued with a lot of the recipes. A few that sound fun to try sooner, rather than later are:
Chocolate Chip Cookie Dough Fudge <—Hello gift making!
Chocolate Chip Cookie Dough Sandwich Cookie <— Best of both worlds
Brown Sugar Cookie Dough Layer Cake
Cookie Dough Mosaic Cheesecake
Chocolate Chip Cookie Dough Bread Pudding
Malted Cookie Dough Milkshakes
Invisible Cookie Dough Ice Pops
Cookie Dough Oatmeal Pancakes
Cookie Dough-Stuffed French Toast
Cookie Dough Crispy Treats
Cookie Dough S'Mores
If you love cookie dough, or know someone that does – this is a great gift for them. Lindsay has a great variety of treats that play on old favorites with a splash of cookie dough. Oh and FYI – you can check out other recipes and goodies on her website Love & Olive Oil.
If you love cookie dough, what would be your dream cookie dough recipe creation? As always, Tuesday Tales are all about spreading the love for books. What have you read recently? Please be sure to link up to your book posts in the comments below. Include something you read on your own, with a child, or someone else.
Disclosure: TechyDad bought our copy of The Cookie Dough Lover's Cookbook. The opinions expressed in the review are my own. One Amazon Affiliate link is included in this post for the book mentioned. I will receive a percentage of money for the sale should you opt to buy any of the books through my links.