What does one do when it is raining outside and the kids want to play with Legos? If you were me the other day, you would join in and get creative. My creative juices were not flowing while building a giant house, car, or other structure. I was much more imaginative. I looked at the piles of Lego people. First up was putting them back together again. There were pirates, wizards, aliens, and others that were missing parts. Poor Harry Potter was missing a head and his hair was not on his head. Disturbing scene.
Finally, people were mostly together and it was time to have fun with photos. The first pairing are probably BFFs. Can't you just see Rubeus Hagrid and Captain Jack Sparrow working together?
Sure, they may mostly hang out getting giant tubs of Butterbeer, but they would be making sure that everyone around them was safe.
Then, Voldemort seemed drawn to the Aliens. I do believe they were plotting something evil. A brave Alien Hunter must have felt that he could take them both on without any backup or ray gun. Perhaps this was because "He Who Must Not Be Named" lost his arm that probably had his wand. Hmmm…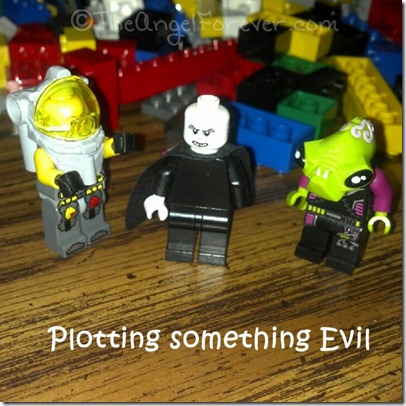 I have a feeling Bellatrix Lestrange may have been looking for Voldy's arm and wand when she was cornered by another Alien Hunter who was armed.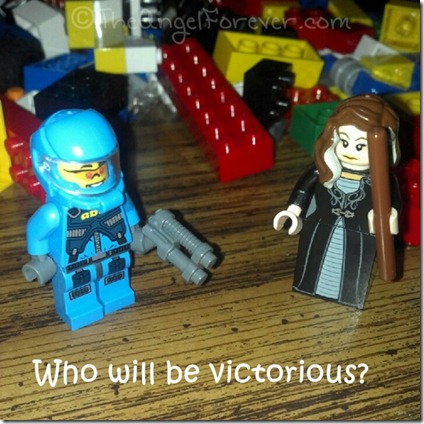 What did the kids think? Well, after a while they encouraged me. They kept asking me to take the camera back out to take more photos. I have a feeling we may make this into an activity for another rainy day. Perhaps, I will let them use the camera, take photos to capture the story, and then help me make it into a movie like I used when jelly bean taste testing.
So what LEGO figures would you love to have and why?