The fact that my "baby" is heading to kindergarten has hit me hard. By the time JSL starts school after Labor Day, I will likely be a mess. I should stock my car with tissues now. I know that he is ready, but I'm not too sure about me. The little guy has been my side kick for five years now. Sure, he's been at preschool, but that was different. Suddenly, he's going to be thrust into a full day of school, soon he will be reading on his own all the time, and there will be homework.
Last week on NHL's birthday, the boys were in our bed and a photo flashed before my eyes.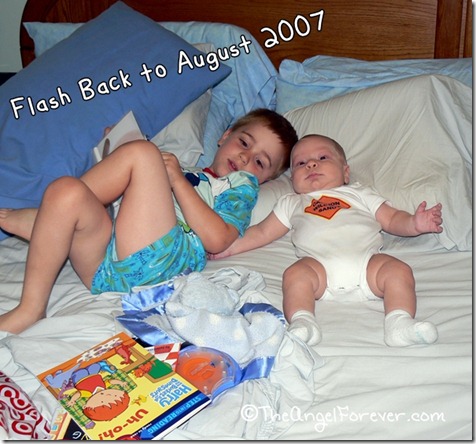 This was NHL on his fourth birthday next to his barely three month old little brother. Look how young and innocent they were. Not a care in the world. They simply loved each other and spending time together.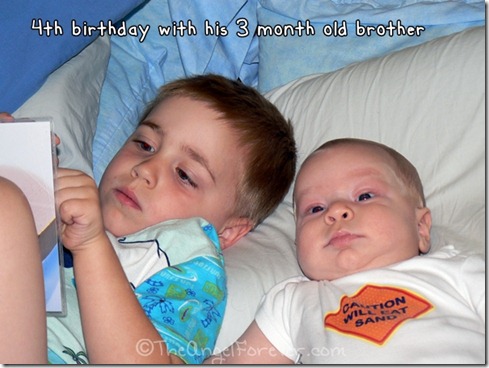 The boys still adore each other. They squabble here and there like all siblings, but there is just something extra special about their relationship. What I love is how they truly look out for each other. NHL wants to teach his little brother everything he has learned in school. JSL wants to take his big brother's hand and reassure him about everything and model what he is taught.
Of course, when that photo of the boys flashed before my eyes I followed them into the living room. Five years later, JSL was a lot more animated. He curled up on the couch next to NHL to watch his big brother check out all of his new presents. Do you notice someone else wearing something familiar in the latest photo below?
Now, my two boys are going to be heading to the same elementary school to learn, grow, and become independent thinkers. Not only will TechyDad and I help them to follow their dreams, but I know they each have another person in their corner – their brother.