Both of the boys are back in school and full time now. I have a fourth grader and kindergarten kid in the house. For three days now, JSL has cried at drop off. Thursday was a little different since he went in about 40 minutes late after an ENT appointment. We have found something that seems to help at least a little (unless his teachers tell me otherwise). We implemented The Kissing Hand technique thanks to the book by Audrey Penn. Each morning, when I drop JSL off, we power-up our kissing hands to make sure we are both ready for the day away from each other.
When he came out of school on Thursday, I noticed his left hand was rather blue. We arrived at home and there was a surprise inside his backpack. Check this out: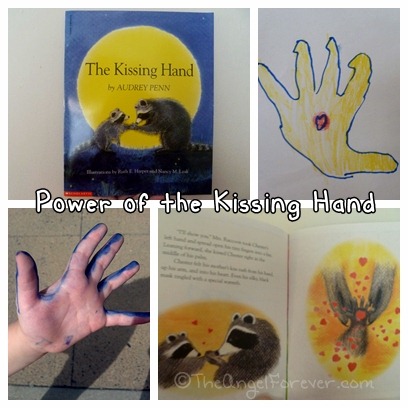 JSL's blue outlined fingers were from making his own kissing hand. I may not be Mrs. Raccoon and JSL isn't Chester, but this may be a great tradition that works for us at the start of a new school year, or a day he's nervous or sad.
So my question for you today:
Do you have any traditions or items that you have done to help your kids to ease into the school routine? If you do not have children, what helped you as a child?

___________________________________________________________________________
Thanks to Kailani at An Island Life for starting this fun for Friday. Please be sure to head over to her blog to say hello and sign the linky there if you are participating.
Aloha #219