It isn't every day that a movie can make you feel old, but bring back happy thoughts at the same time. I do believe that Wreck-It Ralph may just do this.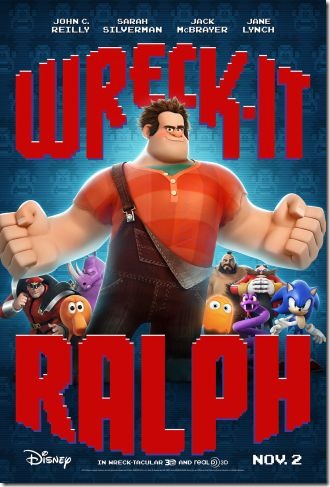 The boys, including TechyDad, and I can not wait to see this movie. Just watching the trailers has opened up old gaming dialog. Of course, as you can see from the picture above, old school video games meet new school gaming in this movie coming to theaters November 2. Here is the latest trailer that was released from Disney Animation to help you get excited. Try to see how many characters/games you recognize. Ready? Go!
Now, what I really want to do is learn how to speak Q-Bertese. I think it would be a great code language for parents to use when they can't "talk" in front of their children. What do you think and are you excited about going to see Wreck-It Ralph?

Disclosure: Disney PR notified me of the Wreck-It Ralph trailer.  I was not compensated for this and simply wanted to share since I adore all things Disney. You know we will be going to see Wreck-It Ralph when it is released November 2, 2012.