Rosh Hashanah begins at sunset on September 16, 2012. This is the Jewish New Year when  families around the world gather together to celebrate a sweet New Year. It is also the time that we look back at the year gone by and ask for forgiveness. Yom Kippur, the day of atonement, is the holiest day of the year when the book of life is sealed for another year. Now imagine trying to explain this to younger children. It is not easy, but thank goodness there are now many amazing children's books out about Rosh Hashanah.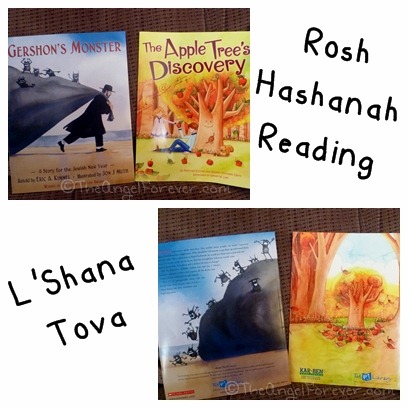 Thanks to the PJ Library, which provides free kids' books for Jewish families, we have been introduced to many new books for the holidays. Both of the boys recently received a mailing with a book about Rosh Hashanah.
JSL received The Apple Tree's Discovery
. This sweet book is about the life of young apple tree living among a forest of giant oak trees. The apple tree is jealous of something that the other larger trees has that he does not have. We watch as the small trees asks God to give him what the others have. He is told to be patient. Readers watch as the beautiful apple tree learns a valuable lesson one fall day.
This book is a great to talk with younger children about items that they are thankful for, especially at Rosh Hashanah. Remind them that we must remember to be thankful for items that we have and celebrate our differences among the world.
The Apple Tree's Discovery – Written by Peninnah Schram and Rachayl Eckstein Davis – Illustrated by Wendy W. Lee – Kar-Ben Publishing – January 2012 – ISBN 9780761351320 – Paperback 24 pages – Ages 5-9 – $7.95
NHL received Gershon's Monster: A Story for the Jewish New Year. This book really has a lot to relay to older children with a picture book format.
Gershon is a man who never had a regret about anything that he had done in life. He believed that he could simply sweep away his mistakes and thoughtless acts into his cellar. Then each Rosh Hashanah he would gather them together in a sack to toss them into the sea. Gershon and his wife are childless and he claims that once his twins are born he will change his ways. We watch as years pass and he must face a monster to learn a lesson.
This retelling of a Hasidic Rosh Hashanah tale is beautiful. The simple and old fashioned illustrations make the story even more powerful to older children. They can see the pain on the face of Gershon as he has to finally face all of the years of being reckless. The book also allows for a nice chance to talk with children about what they will do differently in the coming year. Take time to think about challenges faces, growth, and what you are excited to experience in the upcoming year.
Gershon's Monster: A Story for the Jewish New Year – Retold by Eric A. Kimmel – Illustrated by Jon J. Muth – Published by Scholastic – September 2000 – ISBN 9780439108393 – Paperback 32 pages – Ages 4+
What are your favorite Rosh Hashanah books? As always, please share what you have read recently. Be sure to link up to your book posts in the comments below. Include something you read on your own, with a child, or someone else. Tuesday Tales are all about spreading the love for books.

Disclosure: My boys received these books as a members of the PJ Library. Membership in our area is free and we are never expected to review/write about this, I simply wanted to share these books with others. Two Amazon Affiliate links are included in this post for the books mentioned. I will receive a percentage of money for the sale should you opt to buy the book through the links.