Living in New York state, we are lucky not to be a battle ground for the upcoming presidential election. Thanks to this, the nasty political ads for that race are less frequent. I take that back, perhaps they are more prevalent and I have just tuned them out or just not watching as much television. For those of you living those battleground states, I am SO sorry you have to keep dealing with this on a daily basis.
I promise this is not a political post. My style of writing about election day is nothing really controversial. Basically, similar to my Tuesday Tales post on a book  called Vote for Me for kids.
While driving the kids to school, something else made me stop and think. There were few if any campaign signs on lawns in the residential areas. I remember back when most lawns contained signs to support your candidate of choice. Of course around here, we had a lot of Bill Clinton signs. Now I think I can count on one hand the number of signs I have seen for both of the candidates. Even the local candidates are running for office are not as visible. It made me wonder why this is happening. Are campaigns spending less money (don't laugh), are people less likely to share their political views on their doorstep, or is it something else?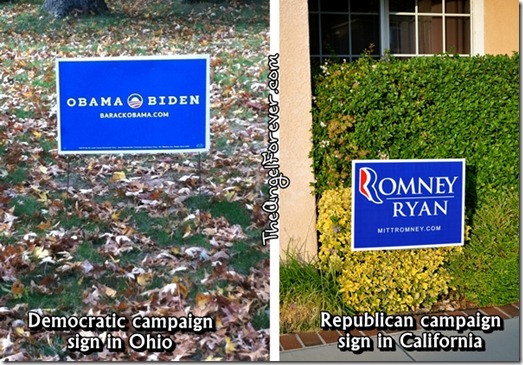 A huge thank you to my friends for assisting me with the photo above. Traci, The View from my Fishbowl, helped me with the fall photo in Ohio. Then I reached out to Cathi, Simple Sojourns, and she took the photo in sunny California.
So my question to you this week:
Have you seen a decrease in political signs in your area? I would love to know what state you are in if you are willing to share. I'm curious if it matters based on location.

FYI – Two giveaways happening for books that would make great gifts. Linnea in Monet's Garden and some classic stories from Silver Penny Stories.
___________________________________________________________________________
Thanks to Kailani at An Island Life for starting this fun for Friday. Please be sure to head over to her blog to say hello and sign the linky there if you are participating.
Aloha #225