Did you know that, before we got married, TechyDad had never been to Walt Disney World? I know that I find it hard to believe. Eleven years later, he is now a true blue Disney fan who can talk your ear off about planning a Disney vacation.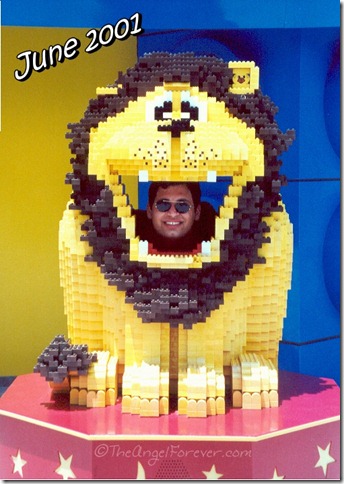 At the time, I took it for granted watching my new husband taking it all in. Way back then, I insisted on taking my film camera and not TechyDad's first generation digital camera. Now, I wish we had taken more photos of his first time in front of the castle, first time in front of Spaceship Earth, and other special moments. Sad to say, there were no PhotoPass photographers back during this time period. Luckily, some people along the way made sure that we stopped to get some photos together. Here we are painting an animation cell the old fashioned way.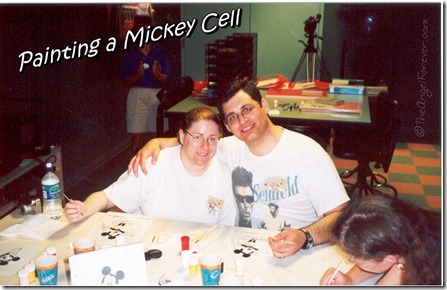 During our honeymoon, we had many Disney firsts together. We went on several behind the scene tours, saw our first Cirque du Soleil (La Nouba), and explored Disney's Animal Kingdom together. It truly was a magical time and we knew it when taking a boat back to the Beach Club Resort and saw this beautiful rainbow. It really was a sign.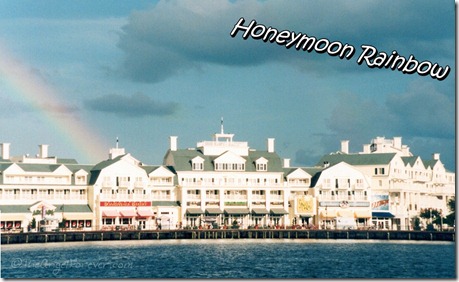 Our Disney honeymoon was also the first time that we bough matching shirts. It kind of started a tradition of wearing them on our last day in the parks.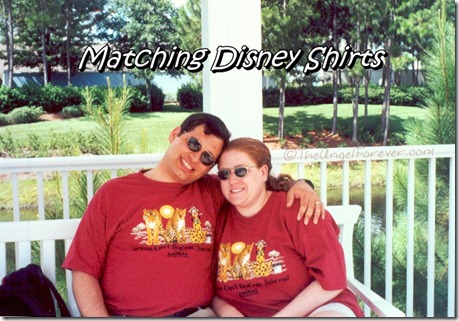 While I adore going to Disney World with the boys and other family members, there is just something extra special about an adult only get away there. Spending time with your spouse roaming the streets of World Showcase, not fighting over who gets to sit next to you at dinner, and just relaxing while being a kid at heart.
Have you ever gone to a Disney Park without your children?

This post is part of the fun over at Super Jenn and her Monday's Magical Moments Meme. To join in the fun and link up, head on over to the linky there.