Dear NHL and JSL,
Coming back home from a magical week at Disney World has been a tough transition for all of us. Now, we can sit down and look at all of the moments that we captured from this latest adventure to Orlando. There was the pirate party, dancing in DinoLand late at night, and checking out the Art of Animation Resort. Once the conference was over, we had some extra days to roam the four parks together.
Even a simple moment like the two of you sitting together on a Disney bus while going to a new destination melted my heart. Just three years ago, you were so little when we took you to Disney World for your first visit. Now, the two of you could lead us around the parks and tell us where you wanted to go.
What I loved was the two of you humored us to keep a tradition alive. On our last day at Disney World, we have always worn matching shirts. Both of you agreed to do this again. The best part was wearing them while two special friends before our trip was over: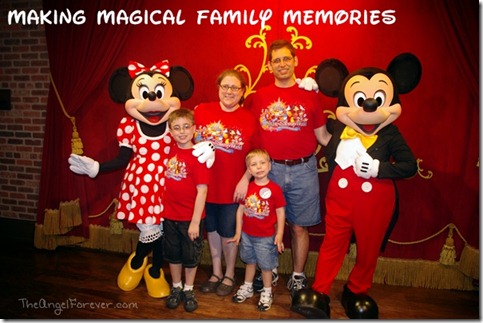 Sure the heat may have gotten to all of us from time to time, but the amazing moments together is something we will always remember. For now, we will look back at these and hope to start planning another trip back one day soon.
Love,
Mommy
Disclosure: Although we paid for our own trip to Disney World to attend the Disney Social Media Moms Celebration, we were given an incredible deal from Disney. Also note that Disney never asked us to blog about this event. As a long time Disney fan, it is my pleasure to share my experiences from the event.