Is there someone in your life that needs a hug, or maybe you do? January 21 is National Hugging Day™ and the perfect time to surprise someone that needs a good hug. Of course, everyday should and could be a day for a hug and I think I am a firm believer of this. I mean just look at this photo of my boys getting along and hugging each other, it could be contagious: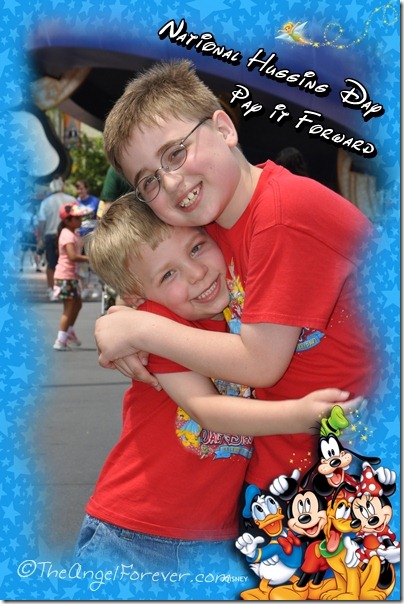 Now, thanks to my bloggy friend Holly from Tropic Home and Family, I am going to Pay it Forward with someone else that I would like to give a hug to. I wish I lived closer to my friend Shannan (From Cribs to Car Key). She is such a strong woman, fantastic mother, and great person. She never judges, always listens, knows how to make me laugh, and dishes out great advice. Here we are together after we conquered the African Trek at Walt Disney World (thus the crazy hair).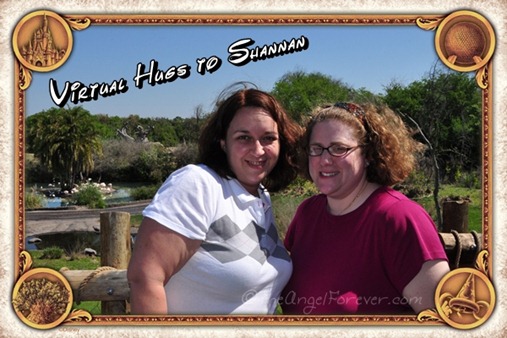 Shannan has been there through a lot of drama in my life and helped me to keep a level head. She probably doesn't realize how much she means in my life, but I am putting it out there for her to officially know. Thank you Shannan for always being a DM, PM, phone call, Tweet, text, or Skype call away. I know I will never be able to express what you mean to me, but you are like a virtual sister to me who I can complain to and gab about Disney with. Now we just have to figure out a way to get our states closer and meet up in person soon.
A huge thank you to Holly for sharing this idea – love it. It was also great to finally meet you and your family in December. FYI, she gives out a great hug as well.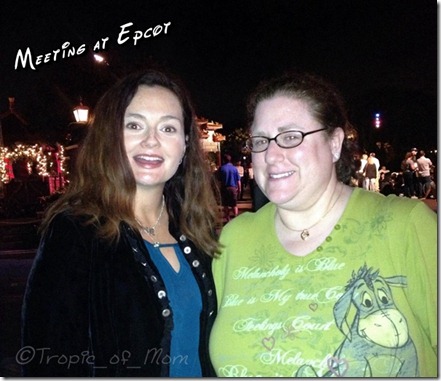 My question this week is inspired by Holly:
If you could give a hug to anyone right now (near or far), who would it be and why? If you would like to participate in Holly's Pay it Forward project, click on the button below (those two cuties are Holly's boys).

___________________________________________________________________________
Thanks to Kailani at An Island Life for starting this fun for Friday. Please be sure to head over to her blog to say hello and sign the linky there if you are participating.
Aloha #237