Flash back to when I was in 5th grade. That was the year that I read Anne Frank's Diary in school. This began my appreciation for books about that historical time, but also historical fiction in general. Some of my favorite trade books to teach are from this genre because there are so many ways to extend lessons.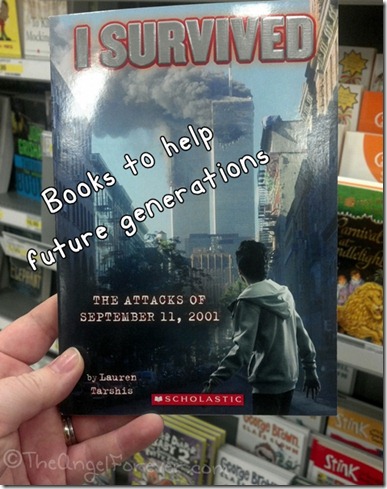 I have been very intrigued with Scholastic's I Survived Books by Lauren Tarshis. The first time I noticed them was in a store and I saw I Survived the Attacks of September 11th, 2001
. Since that day, I bought the book to read with my oldest book next year together.
The I Survived Books
are unique and tell the story of a young boy that lives through a horrific event from history. The other five in the  series include:
The Sinking of the Titanic, 1912
The Shark Attacks of 1916
Hurricane Katrina, 2005
The Bombing of Pearl Harbor, 1941
The San Francisco Earthquake, 1906
The latest book in the series was just released and I was able to preview it thanks to Scholastic.
I Survived the Battle of Gettysburg, 1863  – Written by Lauren Tarshis –   Scholastic Books – February 2013 – ISBN 9780545459365 – Paperback 112 pages – Ages 7+ – $4.99
This book is set during the Civil War. Thomas and his little sister Birdie are living as slaves on a farm in Virginia. Then, one day, Thomas knows that he has to do something drastic. The two escape from where they are and go on the run. They must stay away from slave hunters as they move along the way. Thomas saves the life of someone, who in turn takes the two children along as they move northward toward Gettysburg, Pennsylvania.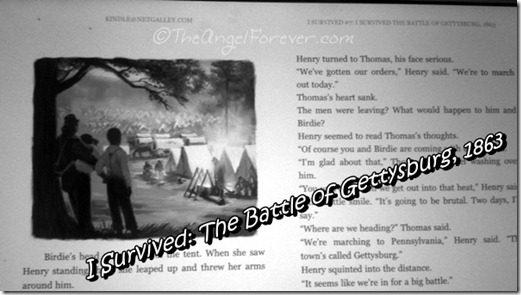 The book literally makes you feel like you are there with Thomas and Birdie. You can sense the danger, the horror of the war, and the seriousness of slaves getting freed. I really like the way it tells the story around a historical events. These books are great for children, especially boys, that want to read where a male character is the main focus. Thomas had great strength, cared for his sister, and never gives up even when things looked bleak. This book would be great additions to any classroom that is studying the Civil War, or for a child that wants to learn more. Scholastic even has more facts about the time period on their website that features this book. I know that I look forward to reading more of the earlier books in this series with my boys and will definitely suggest them to parents who have children that are interested in history.
Have you read any of the I Survived Books? Do your children like to read historical fiction stories? As always, please share what you have read recently. Be sure to link up to your book posts in the comments below. Include something you read on your own, with a child, or someone else. Tuesday Tales are all about spreading the love for books.

Disclosure: I received a NetGalley preview of this book courtesy of Scholastic Books in order to facilitate this review. No other compensation was given. The opinions expressed in the review are my own. Amazon Affiliate links are included in this post for several of the book mentioned. I will receive a percentage of money for the sale should you opt to buy the book through that link.