Do not let the title of Steve Sheinkin's new book fool you. This book is not about zombies or anything else of that nature. No, the latest book from Sheinkin, whose book Bomb: The Race to Build–and Steal–the World's Most Dangerous Weapon was given the 2013 Newbery Honor, is actually a nonfiction book.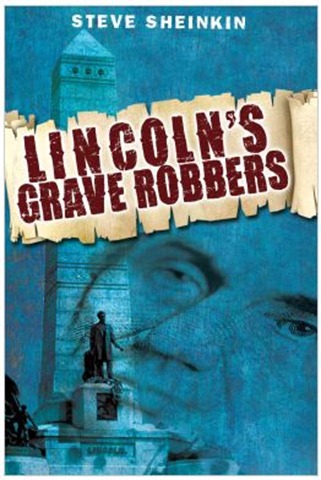 Lincoln's Grave Robbers
– Written by Steve Sheinkin –   Scholastic Books – January 2013 – ISBN 9780545405720 – 224 pages – Ages 10+
The book takes us back into a little known part of the history of 1876. We are catapulted into the world of counterfeiting and shown the way the system worked throughout the United States. The book begins as Ben Boyd, one of the elite counterfeiters, is captured by Secret Service agents. His capture leads others within the ring of felons to hash out a new and very elaborate plan. This plan includes taking the body of Abraham Lincoln from the tomb in Springfield and holding it for ransom. Once they have Lincoln's body, they can then demand the release of Ben Boyd and receive $200,000 in cash.
This book swept me away into a part of history that I was unaware of. Prior to reading this, I was unaware of the original duties of the Secret Service in our country. I had never heard about the plot to capture President Lincoln's body, and I certainly knew nothing about the elaborate counterfeit rings that were big during this era. I learned a lot about how the systems worked during this time, how inadequate items were around Lincoln's tomb, and wanted to know more about the people that Sheinkin wrote about.
I highly recommend this book to anyone that wants to learn more about the time around the 1876 election. If they are intrigued with events around President Lincoln, this certainly is a different spin and will likely make them want to read more about the topic and time period. I know that I look forward to reading more of Steve Sheinkin's books with my family as they get older and will be sure to tell my teaching friends about them.
What is your favorite nonfiction book? Do your children like to read books like Sheinkin's? As always, please share what you have read recently. Be sure to link up to your book posts in the comments below. Include something you read on your own, with a child, or someone else. Tuesday Tales are all about spreading the love for books.

Disclosure: I received a NetGalley preview of this book courtesy of Scholastic Books in order to facilitate this review. I requested the title because my oldest son is fascinated with Abraham Lincoln and events from that time period. No other compensation was given. The opinions expressed in the review are my own. Amazon Affiliate links are included in this post for both of the book mentioned. I will receive a percentage of money for the sale should you opt to buy the book through that link.