Disclosure: I received some books by Mo Willems to review and help celebrate Pigeon's 10th birthday courtesy of Disney Publishing Worldwide. No other compensation was received and all opinions are my own. As big fans of this author and illustrator, we were thrilled to participate in this big day for Pigeon and Mr. Willems.
Over the years, I have read a lot of books with children while babysitting, in college, in my own classroom, and with my own two boys. There are times when you may think you have read a book, but then you realize you missed something big. Enter Mo Willems' famous Pigeon into my world. It isn't that I am unfamiliar with author and illustrator Willems. I mean, check out my youngest son's latest collection that he is reading to me.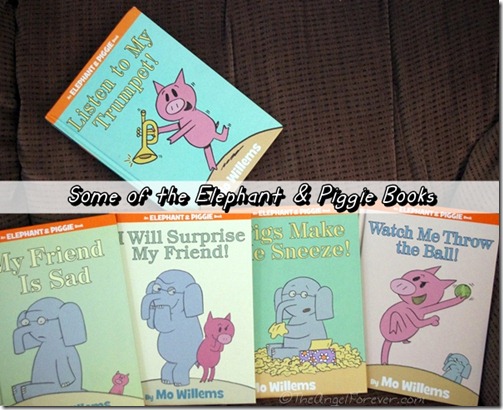 My kids adore Elephant & Piggie books along with Willems' classic Knuffle Bunny. That's what I am not sure how I managed to miss reading Don't Let the Pigeon Drive the Bus! The other day a package arrived from Disney Publishing to celebrate Pigeon turning 10.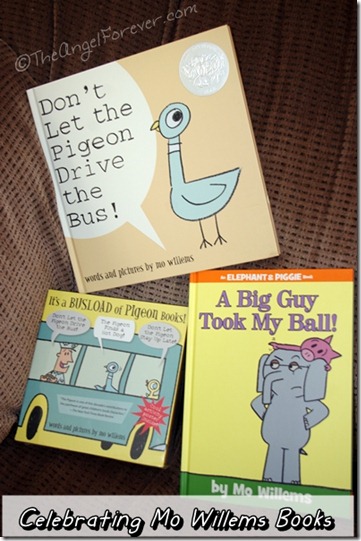 I am not joking when I say the kids were beyond excited about the box of Mo Willems books. The kids immediately snagged the books and wanted to read them together. First, JSL read to NHL A Big Guy Took My Ball! (An Elephant & Piggy Book coming out May 21).
A Big Guy Took My Ball! (Elephant and Piggie Book)
(Affiliate link to Amazon) – ISBN 1423174917 – Written and Illustrated by Mo Willems – Disney-Hyperion – May 2013 – 48 page hardcover book $8.99 – Ages 6-8
After this, I lost track of a lot of what was happening because they were so happy and we decided to make dinner. Fast forward to the next day when JSL started to ask me questions about hot dogs out of the blue. I had no idea where this was coming from. Later on, he sat down with me to read Caldecott Honor book Don't Let the Pigeon Drive the Bus!
Of course, when we were finished he begged to continue on to read the other books in the Busload of Pigeon Books collection. This small hard cover book collection includes the original Pigeon book, along with The Pigeon Finds a Hot Dog! and Don't Let the Pigeon Stay Up Late! This was clearly my ah-ha moment. Now I knew why my fussy eater was suddenly curious about hot dogs. Thanks to Mo Willems , Pigeon, and the cute little Duckling, JSL was now intrigued with hot dogs.
It's a Busload of Pigeon Books!
(Affiliate link to Amazon) – ISBN 1423175891 – Written and Illustrated by Mo Willems – Disney-Hyperion – April 2013 – 120 pages in 3 mini hardcover book collection $24.99 – Ages 2-6
This box set of smaller sized Pigeon books is now available to help celebrate this famous bird's 10th Birthday. This set, along with other Mo Willems books and items make fantastic baby shower gifts, and birthday presents for young children.
In addition to this, Don't Pigeonhole Me!: Two Decades of the Mo Willems Sketchbook
(Affiliate link to Amazon) will be coming out June 18. This book for adults will feature 20 years of sketches and ideas from Mr. Willems. The foreword of the book is written by another world famous children's book author and illustrator, Eric Carle. I know I cannot wait to read this book to learn more about Mo Willems and how his concepts go from notebook sketches to print.
Please join me in wishing Pigeon a very happy 10th Birthday. Now, I would love to know what your favorite Mo Willems book and why. As always, Tuesday Tales is about spreading love for books. Please share what you have read recently. Be sure to link up to your book posts in the comments below. Include something you read on your own, with a child, or someone else.

Additional Disclosures: Three Amazon Affiliate links are included in this post for the books mentioned (they are noted above). I will receive a percentage of money for the sale should you opt to purchase it through that link.