Going to The Albany Children's Book Festival was an experience our entire family enjoyed. As I have mentioned in two previous posts (Part 1 and Part 2), meeting some of the talented authors and illustrators was wonderful. In addition to that, the kids were excited to read books that were new to them and add to our summer reading list.
What I really appreciated about this festival was being able to see the local authors. Often times, the kids and I forget that we have some wonderful authors and illustrators within the Capital District area. One example of this is author and illustrator Matthew McElligott. I was introduced to Mr. McElligott by my oldest son after he went to NHL's school and spoke with the children. I was so curious, I immediately went out and read Benjamin Franklinstein Lives! and adored it. I am hoping to read this and the other books in the series with the boys, plus I know JSL will like the picture books by McElligott as well.
Of course, then there is the moment that you recognize someone and feel so very naïve. That moment was when we wandered over to the table with author and illustrator Daniel J. Mahoney. Mr. Mahoney looked VERY familiar. Of course, it was NHL that realized why. NHL knows his son and I had absolutely no idea about his books none. Ooops! Now that we are on radar, JSL and I are looking forward to Monstergarten which is coming out in July. No doubt we will also look at some of the other books he has written and illustrated.
The kids had a lot of fun talking with author and illustrator Jef Czekaj when they brought their passports over. He even drew a cute little cartoon critter next to his name. I reminded the boys that we had read at least one of his books over the summer. Yes, I recall the kids reading Oink-A-Doodle-Moo multiple times and laughing and enjoying it a lot. I know we will be looking at more of Mr. Czekaj's books this summer.
After this, the kids spotted a table set up to make some monster drawings. Local teacher, author, and artist Ira Marcks. Mr. Marcks actually had a station set up for kids to create their own Monster drawings. He talked with the boys as they were making their colored pencil creations. He also shared some of his camps and other local events that we will be investigating for the summer. His book Witch Knots is a graphic novel that really highlights his work.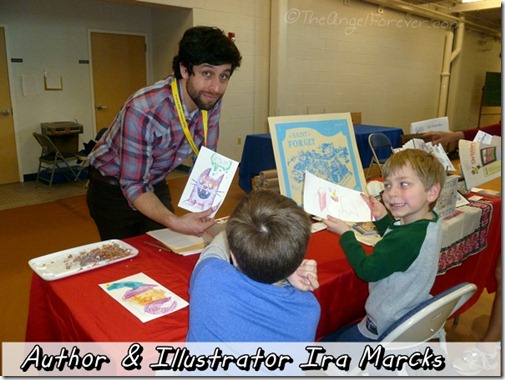 After two monsters were drawn, we took the boys to get their prize for getting a lot of autographs in their booklets. Then it was time to select books so we could purchase them and go home. As I wrote in Part 2, NHL immediately knew what book he wanted to get. JSL, had some troubles selecting a book. We must have gone back to several tables over and over again. Thanks to this, we now have more books to add to the summer reading and several birthday present ideas for the kindergarten kiddo. In the end, my little Matey fell for author and illustrator Victor Ramon Mojica's book Captain Cross Bones in the Treasure Hunt. I think Mr. Mojica sold the book by interacting with JSL and giving him a cool autographed poster of Captain Cross Bones. I also know we will be checking out Barbara Mojica's Little Miss History book because they also looked like something the boys would adore.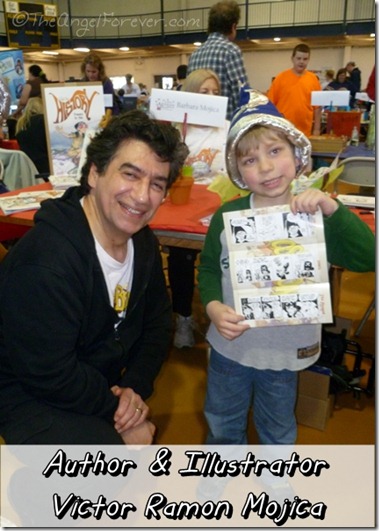 Check out my little Wizards after we got home and were looking at our books and other items from some local vendors and libraries. You can see they love their new hats and were ready to dive into their new books.
If you hear about a children's book festival coming to your area, I urge you to make the time to take your kids. This experience was beyond anything I could have imagined. It helped my boys to come out of their shell, gain confidence, and ignite their desire to read even more new and wonderful books.