It is no secret that I have blogged about being a teacher. Over the years, I have shared my educational background in different ways around The Angel Forever. When Sara, from Saving for Someday, reached out to see if I would be interested in sharing information about a cause that is near and dear to her I asked for more information. I later found out that she does a lot of volunteer work for the National Center for Missing and Exploited Children (NCMEC). This week, NCMEC launched an updates website that is geared for tweens (8-12) to high school students. NSTeens is a re-launch of their NetSmartz Teen page.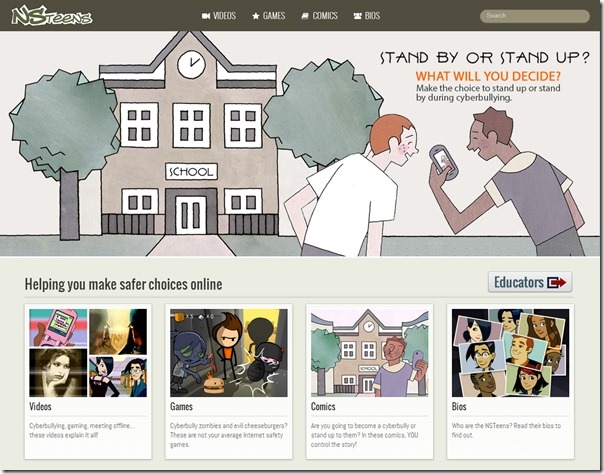 Why Share the NSTeens Website?
My first reason is because I am still a teacher to my core. While I may not be in a classroom, I like to share resources that will be helpful to children, parents, and teachers. The topic of online safety for tweens and teens is an area that I spent a lot of time on while teaching. While teaching in a middle school, I taught several different subjects. In addition to Science and Language Arts, I also taught Health to students. Not only did I have to talk about topics like eating disorders, sex education, and drugs, I also made sure to open up the gates to online safety. It always scared me when I would see what kids were sharing on Facebook that strangers could see.
The other reason I am interested, I am a parent of an almost ten year old son. In just over a year, NHL will be going to middle school and that is a very different world from elementary school. Though he is very young, he has already been the victim of bullies. I need to teach him how to talk to me about cyber-bullying and helping friends that are in trouble. We also need to have more in depth talks with him about online safety. This is a big item that TechyDad and I have to really think about. We want NHL to use technology, but do so safely and not get tricked by his peers or others that may take advantage of kids. We also need to teach NHL how to be responsible when posting information online. He has to think about his digital footprint and how it will be tracked in the future by colleges and future employers.
What Resources are Available on NSTeens?
NSTeens is a free online resource for tweens and teens to learn about making better choices online. There are online games, comics, and videos to actively engage this age group while they are learning. The new content includes (information from the NSTeens Press Release):
6 Degrees of Information, a video that asks teens to think about the information they share online and how comfortable they are with people finding it. In the video, Matt, an Internet researcher, asks five teens to participate in an experiment where he will try to find out as much as he can about them online in just six clicks.
Rescue Run, a new game where players must avoid obstacles while racing to stop their friends from meeting face-to-face with people they first met online. During the game, players receive tips about how to handle requests to meet offline. Tweens can play at NSTeens.org or download the mobile version from the Apple iTunes stores or the Google Play Android store.
Stand By or Stand Up?, the first interactive, role-playing comic on NSTeens.org. The comic addresses cyberbullying and engages tweens through a "choose-your-own-adventure" style of story in which their decisions help shape the comic's outcome.
In addition to the new content, there are older Internet-safety games and videos available on NSTeens. Parents and educators can also print activity cards and discussion guides to help them when talking about these crucial subjects.
I know that we will be spending more time this summer looking over the NetSmartz website before we share it with NHL and then we will explore it more together. To learn more, please check out NetSmartz Teens updated website and Twitter account. In addition to this, learn more about the National Center for Missing and Exploited Children on their Facebook page.
Have you talked to your children about internet safety and cyber-bullying? If you have, please share your experiences in the comments below. It is always helpful to hear how others have communicated with their kids about this more difficult subjects.

Disclosure: None! I posted the information as a PSA to other parents and educators looking for a resource to help kids to learn more about internet safety and cyber-bullying.