It is no secret that I am a big fan of Dole Whips. While typing this up, I can already visualize walking through the Magic Kingdom and heading over to Aloha Isle to wait in line for a delicious Dole Whip Float. Yum! For Disney fans that adore this treat, you know that finding them outside of Disney parks is very tricky. There had been very few locations beside Walt Disney World, Disneyland, and the Dole Pineapple Plantation in Hawaii. Last week, Lisa from Babes in Disneyland posted about a new discovery. She found out that a frozen yogurt chain called Menchie's carried Dole products. Before you could say pineapple, I was on the Menchie's website to see where they were located. That's when I saw there were three stores in the Capital Region area. What I did not realize at the time was that the Colonie Center store was opening that very weekend.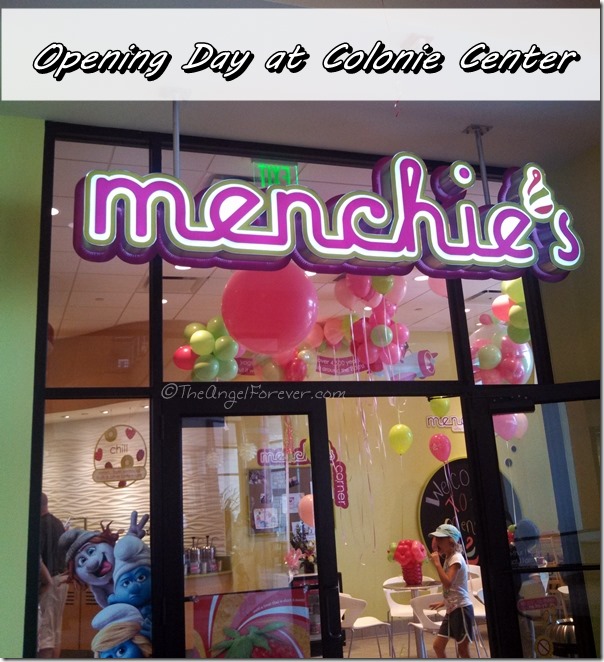 Opening day of the new Menchie's was also TechyDad's birthday. He was curious and wanted to try to go there. Since they were giving away free yogurt for the first few hours, the place was packed and there was a giant line. We decided to go and have lunch and head back later. Of course, when we went back we were not hungry. We went inside and stumbled upon the manager of all of the local stores. He confirmed that the Capital Region locations do in fact have the pineapple Dole variety and it will be in the rotation of flavors. We were told that they would be updating their Facebook page with flavors. My guess is the first week has kept them on their toes and this has not been done, but I am hopeful that it will show up one day soon.
While JSL was in camp, NHL and I went out and he begged to go to Menchie's to try something. So lunch that afternoon was a stop in Menchie's. We had good timing with a quiet store so we could explore the flavors (no pineapple), toppings, and more.
NHL finally decided to have ICSB, which is ice cream sandwich. He added some fruit, popping boba, cookie dough, a chunk of brownie, and whipped topping. I decided to have a cake batter variety with strawberries, blueberries, popping boba, and a little cookie dough. NHL and I both enjoyed our creations and decided that we would have to go back another day when they have Dole Pineapple flavor to enjoy it with JSL and TechyDad.
So my question to you this week:
Have you ever been to a Menchie's? I would love to know your dream creation there or at any other frozen yogurt destination.

---
Thanks to Kailani at An Island Life for starting this Friday fun. These days, Pamela at A Renaissance Woman is reviving the fun Friday Meme. Head over there to link up and join in the fun.
Aloha #250