Back to school in our house means more reading, especially for the boys. While we have read over the summer, it was not nearly as focused. As we get ready for going back to school in September, first grader JSL and I have been gearing up on books related to school. Last year, he really latched onto The Kissing Hand to give him comfort when going to a new school and entering Kindergarten. This year, I was looking for books that would give him self confidence and remind him about the amazing things he can do and learn in school. The timing of an email from Sterling Publishing about a new book called Rufus Goes to School was perfect.  I immediately asked JSL if he wanted to help me to review it.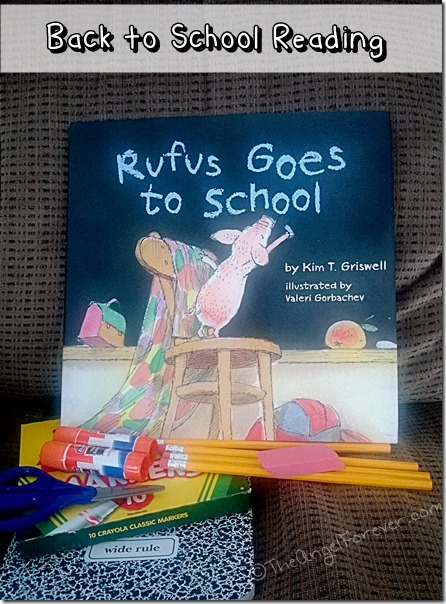 While the cute little pig named Rufus was a selling point in the email that I received, the book trailer sealed the deal. JSL wanted could not wait to read the book and kept asking when it would arrive.
As you can see in the video, the illustrations by Valerie Gorbachev are beautiful and really make Rufus and his tale come to life. Author Kim T. Griswell introduces us to Rufus and we watch him problem solve a way to go to school. He is a very determined pig and has to figure out a plan to get Principal Lipid to listen to him. Needless to say, JSL thought that the principal was not being nice to Rufus. Each time he would say he could not go to school, we would cheer on our little hero and wonder what he would think of next.
What impresses me most about this book is the message. Children that read this will see that the small little pig does not give up. He is determined to follow his dream and pursues this in a polite way no matter how others have tried to stop him. This charming picture book will inspire young children heading back to school to keep believing and use their words to be self advocates for what they want. JSL and I highly recommend this book for kids as they go back to school this year. He has already asked me to share it with his teacher and I think we will ask if it can go in for read aloud.
What books do you enjoy reading with your children for back to school? I would love for you to share them below.  As always, Tuesday Tales is all about sharing our love of books. Please let me know what you have read recently. Be sure to link up to your book posts in the comments below. Include something you read on your own, with a child, or someone else.

Disclosure: As noted above, I received this book from Sterling Publishing to review. No other compensation was received and all opinions are my own.