As a fan of the I Survived book series by Lauren Tarshis, I was intrigued to see her latest title available via an advance copy on NetGalley. I Survived the Nazi Invasion, 1944 takes on children living during World War II in Europe. I received a digital review copy of the book which is now available in stores and online. 
As a Jewish family, I know the importance of teaching my children about the Holocaust and all of atrocities that happened in Europe during World War II. Of course, this is not something that you can dive right into with kids. They need to slowly hear about them and understand the impact that it had on all those families at the time, and perhaps even your own. Growing up, I remember reading The Diary of Anne Frank  in school when I was NHL's age. I quickly became fascinated with learning everything and anything about this time period. This included items that were nonfiction and historical fiction as well. I was also blessed to be able to listen to and hear first hand accounts from people like my Hebrew School teacher who had survived a concentration camp.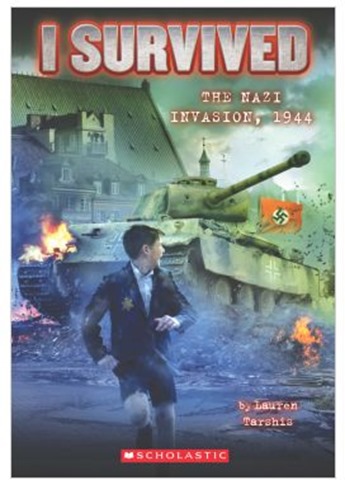 I Survived the Nazi Invation, 1944 – Written by Lauren Tarshis –   Scholastic Books – February 25, 2014
ISBN 9780545459389 – Paperback 112 pages – Ages 7+ – $4.99
Last year, my son, a fourth grader at the time, had the opportunity to go to an assembly at Hebrew School to listen to a Holocaust survivor. I have to be honest that I was not sure how my son would handle the conversation. He did well and it gave us more opportunities to chat and talk about the history. This experience did not create a natural curiosity about the time period. I think it may have been a bit too much for my very sensitive son, so I have been looking for ways to do this with NHL. I did hear him state that he had read Number the Stars during school and he really enjoyed it. With that said, I want NHL to read this new book by Lauren Tarshis with me. I do believe that that way she handled the sensitive subject matter is a perfect book for families to begin to talk about the Holocaust and topics within this period of time.
This book introduces us to Max Rosen and his sister Zena. They are living in a Polish ghetto alone because their father was taken away by the Nazis. They are barely surviving hunger when they are forced to make a daring escape from Nazi soldiers. As they are running, they are found by Jewish resistance fighters who are with them as bombs begin to fall around them.
Once again, Lauren Tarshis does a wonderful job weaving history with fictional characters. Readers will want to know more about Max and Zena and likely be curious about others who lived during this time. She hints at concentration camps, but does not specifically mention them by name. The developmentally appropriate story is a great way to determine if a child is ready to dive deeper into the subject matter.
Have you read any of the I Survived Books? How have you talked to your children about history like the Holocaust?As always, please share what you have read recently. Be sure to link up to your book posts in the comments below. Include something you read on your own, with a child, or someone else. Tuesday Tales are all about spreading the love for books.

Previous posts about I Survived books:
Disclosure: I received a NetGalley preview of this book courtesy of Scholastic Books in order to facilitate this review. No other compensation was given. The opinions expressed in the review are my own.