As a kid, I loved the summer. It was a time when I could go to the library with my friends and read books that I wanted to with no pressure from school. When summer reading programs started, it was even more fun. Of course, times have changed and summer reading programs at the library have also grown up. Two years ago, my boys adored the program that we had. We were able to check our books in online, head in for events and fun, and in the end they read a LOT. My boys really fed into the 15 minute increments when reading and wanted to add more and more time. Last year, the boys were not into the program. You had to go into the library to record things and a lot of it focused on going to activities and other items.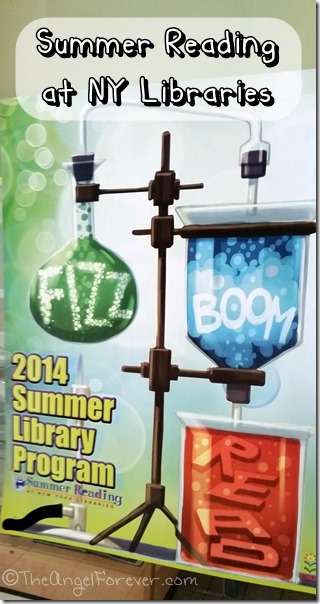 Saturday we went to the library to check out the 2014 program. Based on the theme – Fizz Boom Read, I think it's going to be a very fun year. The boys are in different programs now that NHL is heading to Middle School. The boys each received a sheet with items to do over the next week (or beyond if need be).
JSL's Elementary Reading Program had a beaker with bubbles to complete including:
Read a book out loud
Read a mystery book
Read a Science Fiction Book
Read a book by an author you've never read
Read a book by your favorite author
Read a Graphic Novel
Attend a library program
There were many other bubbles with tasks to complete. For every 5 bubbles completed, he will receive a prize. On the flip side of the sheet is an area to write observations for the week. When JSL finished reading his first book that night, he declared it was by his favorite author and he read it to me. Nice try, but I quickly explained only one bubble per book read. Even more impressive, JSL has been reading a book he got from a friend when we picked up a new bike Sunday. Suddenly, the solo chapter reading bug has hit the newly minted second grader.
NHL's Teen Summer Reading Program sheet (High School/Middle School) has a flask with bubbles to complete including:
Read a magazine
Write a Haiku about the library
Read an Adventure Book
Read a Dystopian Book
Read a Poetry Book
Listen to an Audio Book
Read an e-book
Complete a SNAP Circuit Project
Like the other sheet, there were additional bubbles and items to fill out on the back. For every five completed, a prize will also be awarded. NHL has been working hard and seems to be very happy and I hope it continues the rest of the summer.
So this made me curious. What are the summer reading programs like at your library? As always, Tuesday Tales is all about sharing our love of books. Please let me know what you have read recently. Be sure to link up to your book posts in the comments below. Include something you read on your own, with a child, or someone else.