The summer of 2012 has been a fantastic summer of reading. Not only have I read some great new books for myself, but the boys have kept the love of learning and reading about things alive. TechyDad has been reading the Harry Potter series with NHL. Right now, they are in the middle of the third book. My fourth grader (yikes), has read many other books, magazines, and items on his own and to his little brother.
JSL and I started the Magic Tree House books at the end of May. Once he finished school, we really got into the series. Over the months, we have sailed on from book 1 of the series to starting 37. We have traveled with Jack and Annie all over the world, in many different time periods, and even gone into the world of Camelot. As you can see in the photo below, we have more books to read before kindergarten begins after Labor Day. We may catch up to where Mary Pope Osborne has written. The latest book release is A Perfect Time for Pandas #48.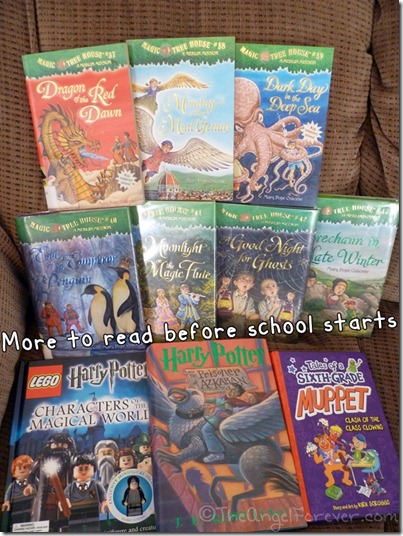 When the summer reading program opened at our library, we signed up online. It was quick and easy to log in, record the titles of the books, and minutes the boys had read. Of course, the reality is that the kids read more than we managed to log. Still, they managed to have a lot of reading for the program which just ended over the weekend. Check out the stats: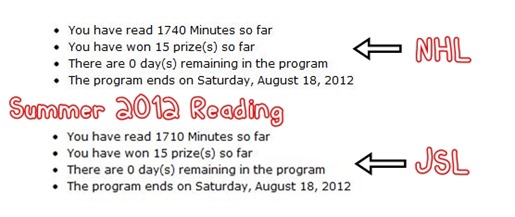 I know the reading amounts at home will decrease as the boys head back to school, but I will cherish the memories that we have this summer.
With some more time until the official end of summer, do you have any reading plans? I would love to know how your summer reading tuned out. What books are you reading right now? I would love to know.  Please be sure to link up to your book posts in the comments below. Include something you read on your own, with a child, or someone else. Tuesday Tales are all about spreading the love for books.