The summer months are a beautiful thing for children. It is a time where they are typically more free to select books that they want to read. Rather than being focused on literature that a teacher like I used to select, they can pick items that hit their unique interests.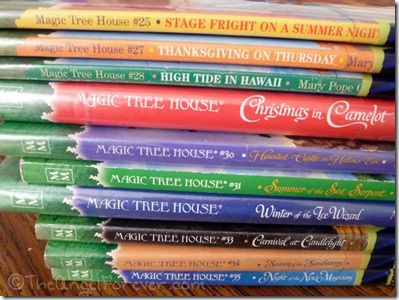 JSL is not reading on his own just yet, so we have spent a lot of time reading together. He still likes to pick out an occasional picture book, but the Magic Tree House books have become a new favorite. He loves learning where Jack and Annie are going to head next. I love that he helps me read the books, guess outcomes, and retell the story and details when finished reading. Here's a little fun video that I captured the other night when JSL helped me read his favorite part.
The educational value in the series is huge, while telling a great story with two believable characters. Since JSL ended preschool about a month ago, we have read 24 of the books. We started reading about half a book a day. Then, he begged me to finish off the books. In about 45 minutes before bed, we can go off on an adventure in the Magic Tree House to places near and far, and often very long ago.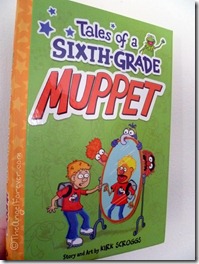 Last summer, NHL was busy reading the A to Z Mystery series. They helped him to get rid of the chapter book phobia. This year, he is catching up on some of the last Magic Tree House books. As a gift for the end of third grade, I also bought him the book on the left. Looks funny doesn't it?
Thanks to his love for all things Muppets, and a very unique writing style from Kirk Scroggs, he quickly read Tales of a Sixth-Grade Muppet
. Listening to him laugh made me add this to my list of must reads. I will be ordering the second book and soon to be released third book shortly. I hope that NHL will also do a video review of the book for me shortly.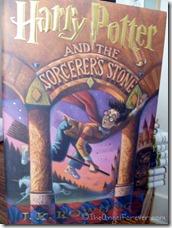 In addition to this, TechyDad and NHL are reading a book together. The boys had never read any of the Harry Potter series. (I read them all years ago.) TechyDad has seen all of the movies, and NHL has seen the first two films. Now, the two of them are almost half way done with Harry Potter and the Sorcerer's Stone.
We have told NHL that to continue on with the movies, he must first read the books. TechyDad and I feel that the level of darkness rises up a lot from the second to third movie.
What are you and your family reading this summer?  What have you read recently? Please be sure to link up to your book posts in the comments below. Include something you read on your own, with a child, or someone else. Tuesday Tales are all about spreading the love for books.
Disclosure: One Amazon affiliate link is included and should you purchase the book mentioned I will receive a small percentage from the sale. As always, all opinions are my own.