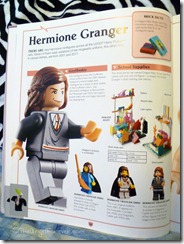 For months now NHL, has wanted to add to his Harry Potter LEGO world. Finding these items locally has been a bit tricky since the popularity has declined a bit with the completion of the movie series. Of course, you can still locate them if you know where. Truth be told, NHL was more interested in the Harry Potter mini figures. To get those at a reasonable cost (not on eBay), you had to get the sets. His favorite character aside from Harry Potter has always been Hermione Granger.
In the sets that are currently available to purchase in retail stores, Hermione is only found in two of them. She is in the GIANT LEGO Harry Potter Hogwarts Castle set
that retails for $129.99. He will continue to dream about that one. She is also in another great set that includes Hagrid, Harry, Ron, and some other fun friends. Yes, the LEGO Harry Potter Hagrid's Hut set
looked like a great possibility to allow him to have some fun new figures and test out building something with instructions.
On his birthday, we went to have cake with Nana and Papa. Before we had The Cake Boss creation, NHL opened up his birthday surprise. Check out his reaction as he realized what was inside.
Parts of the weekend have been spent constructing Hagrid's Hut so NHL can use them to play. The camera has been out to document the progress (more on that later from TechyDad), but I have a little sneak peek.
TechyDad and NHL have been spending a lot of time following the step-by-step directions to make this part of Harry Potter come alive.
This means the summer of Harry Potter continues in our house and probably will for a few more week – or possibly longer.
Are you a fan of Harry Potter LEGO sets or others? Which are your favorite to build?

Disclosure: Two Amazon affiliate link are included and, should you purchase the LEGO sets mentioned, I will receive a small percentage from the sale. As always, all opinions are my own.