Imagine getting excited about an email that has belches, burps, and farts in the title. This kid at heart actually squealed when author Artie Bennett wrote to say that his new book was being published. So I…–er we eagerly waited to receive the review copy. When I opened up the book, the message to my boys was priceless.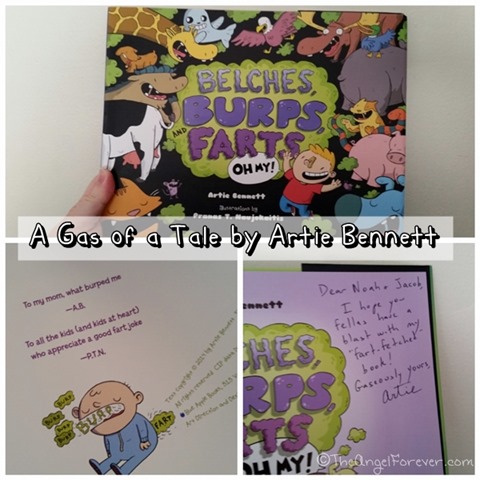 Belches, Burps, and Farts–Oh My! – Written by Artie Bennett – Illustrated by Pranas T. Naujokaitis – Published by Blue Apple Books
September 2014 – ISBN 978-1609053925 – 17.99 – Ages 4-8
So what is this book about? Well, I think you know the gist of it from the title. What you may not expect is the way that it goes about giving children of all ages scientific information. Belches, Burps, and Farts—Oh My! truly is educational. Readers will learn why we pass gas via different routes of the body.
I must confess, I read this book aloud to TechyDad the evening it arrived while he was cooking dinner. I wanted to preview the silly and educational tale before reading it with the boys. The two of us laughed a lot. Sure it talked about bodily functions that many are not comfortable with, but they are a fact of life. There is just something wonderful about the rhyme and rhythm of the book that dishes out fart jokes and facts side by side. Add in the hilarious and colorful illustrations by Pranas T. Naujokaitis and you have a fantastic combination.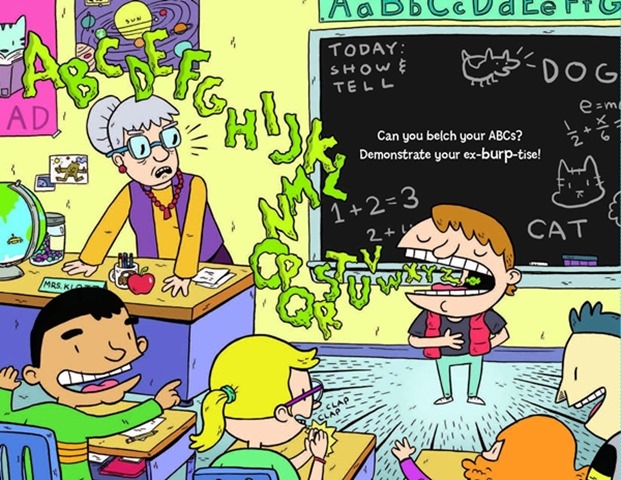 While reading the book to JSL, he was fascinated with the fact that you can't burp while on your back. I have a feeling he may try to see if he can do this. Meanwhile, I hope neither of my kids attempt what is depicted in the picture above. Admit it, we have all burped an answer to someone once or twice before.
One of my favorite moments was when I was reading this page to JSL: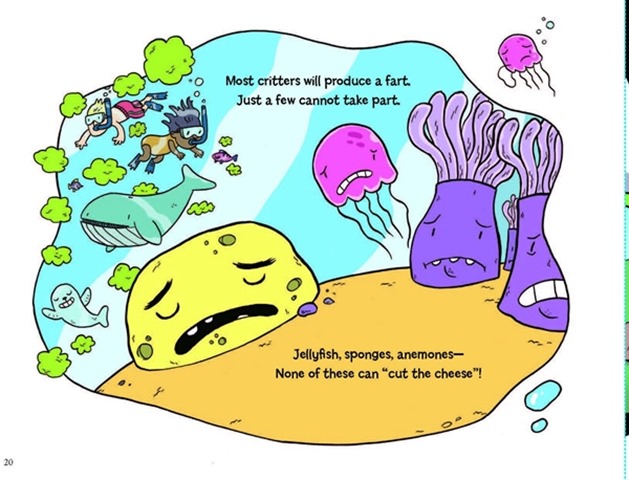 TechyDad heard the page again and yelled, "So, does that mean that SpongeBob does not fart?" The laughter from the seven year old was priceless as everyone thought about episodes they may have seen.
I won't spoil the rest of the book. All I will say is I highly recommend it to others. While it may not be on a traditional topic, I think it's important to have fun while learning about the body and science. Just remember the more comfortable you are now talking about belches, burps, and farts, the easier other talks may be in the future about other tricky topics. FYI other Tuesday Tales on books written by Artie Bennett are Peter Panda Melts Down and The Butt Book.
Have you read any books by Artie Bennett? If you have not, what are you waiting for? As always, Tuesday Tales is all about sharing our love of books. Please let me know what you have read recently. Be sure to link up to your book posts in the comments below. Include something you read on your own, with a child, or someone else.

Disclosure: As noted above, I received this book from the author, Artie Bennett, to review. No other compensation was received and all opinions are my own. Once again, it was my choice to kvell about this book and Artie never pulled my finger twisted my arm.