Imagine a book that can take your child around the world and back again. This is the reality of the Children's Activity Atlas – An Interactive & Fun Way to Explore Your World. I received this book from Sterling Children's Books to review with my family.
Children's Activity Atlas – Written by Jenny – Illustrated by Katrin Wiehle and Martin Sanders 
Published by Sterling Children's Books August 2014 – ISBN 9781454913207 – $16.95 – Ages 5-9
The book by Jenny Slater is a hands on atlas that includes 13 illustrated maps by Katin Wiehle and Martin Sanders. The book also includes a small passport tucked away inside. This is where the book becomes something that will engage kids. The thirteen regions represented in the book with their own map have a section in the passport. The passport gives facts about that part of the world and also asks them to find answers to questions on their map. To do this, they must utilize the map grid to reply.
The maps are beautiful and include capital cities, important cities, rivers, mountains, and country borders. The How to Use the Atlas section explains using the grid. The maps also have biome information and and area where children can place flags for the countries in each regions.
My older son loved looking at the maps to see areas that he has been talking about in school. He was also able to help my second grader when he wanted to explore.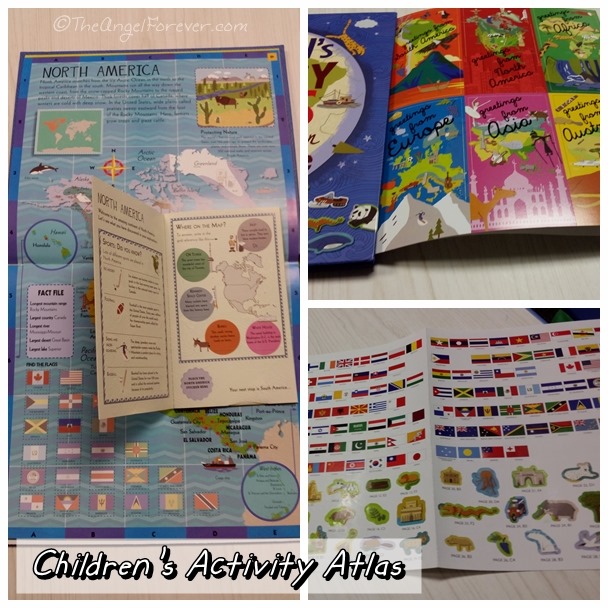 As a parent and teacher, I think this book is a fantastic way to get kids involved in maps and different regions of the world. The information included will likely make many want to learn more when they are finished. I could see adults making more passport questions to keep kids busy on rainy or snowy days ahead.
Do your children like to explore with maps? I would love to know favorites books that they have used to explore educational areas like this. . As always, Tuesday Tales is all about sharing our love of books. Please let me know what you have read recently. Link up to your book posts in the comments below. Include something you read on your own, with a child, or someone else.

Disclosure: As noted above, I received both of these books from Sterling Children's Books to review. No other compensation was received and all opinions are my own.