When I wrote my review of The Last Snowman on Tuesday Tales almost two months ago, I kind of fell in love with the book and snowmen in general. As I watched JC share more of the reviews, I started to think about snowmen crafts to try with the boys if we were stuck at home. An opportunity came up to run a giveaway of The Last Snowman and some swag for my readers to celebrate the release of the paper book version. In case you are wondering, you can still purchase the Kindle version of the book for $3! Oh and if you grab that check out how the book is designed to 'animate' when you flip pages. I instantly knew what I wanted to try with the kids and include as a perfect activity to pair with reading this book. As you can see below, I now own a copy of the paperback version as well!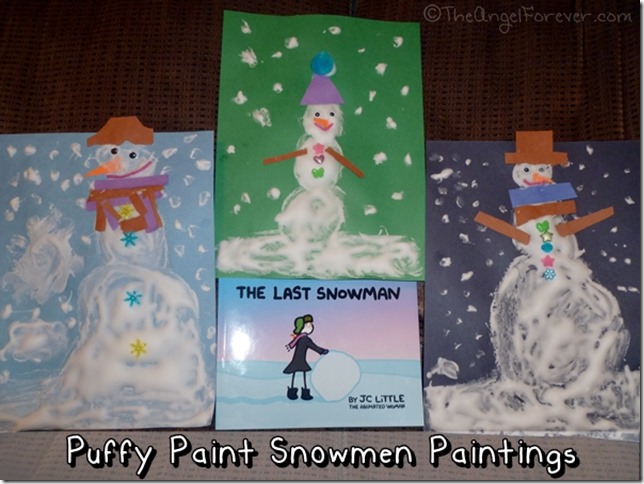 So, when I agreed to be part of The Last Snowman blog tour I knew what I had to make. Years ago, I saw another teacher make puffy paint with kids to use in the classroom. It looked like the perfect paint to try for making our own Last Snowmen. The puffy paint only needs two simple ingredients. Of course, it is all about the props and accessories for the snowmen so other items had to be located from around the house.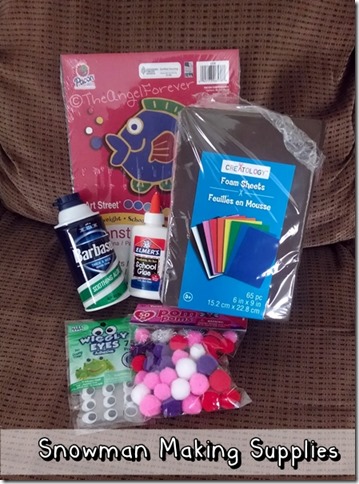 Supplies for Making the Puffy Paint:
shaving cream

white liquid glue

construction paper – you do need something to paint on

paint brushes – different sizes work for for snowmen and snowflake making

bowl to mix paint

glitter – optional if you want your Last Snowman to sparkle
Supplies Suggestions for Decorating your own Last Snowman:
googly eyes – all snowmen need eyes that move

construction paper – makes great snowmen hats, scarves, mittens, and more

scissors – carrot noses need to be shaped along with other items

foam sheets – we did not use this, but had it in case we wanted to use it for snowmen arms or clothing

yarn – great for mouths and could be used for scarves

pom-poms – many uses within your painting

beads – my kids loved these instead of buttons for decorating their snowmen
You could honestly use almost anything you have in your crafting supplies to decorate your own Last Snowman. Think outside of the box and let your kids go wild.
Ready to make your paint? Just add equal amounts of white glue and shaving cream and mix. It really is that simple. I let each of my kids have their own bowl to test it out. When we found that one was a little too sticky on the paint brush, I added a smidge more shaving cream and it was ready to go. Your kids will love watching the mixture puff up. It really does this right before your eyes. Give everyone a piece of construction paper and let them get started.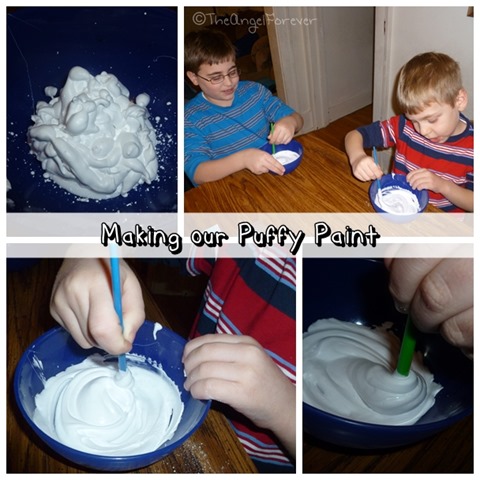 Once the boys had their snow down onto their papers, it was time to decorate them. They decided that they wanted to stick with the construction paper to make hats, scarves, and arms for their creations. One nice feature about the puffy paint is that you just use a little bit on the items you want to add to your pictures and they will stay in place thanks to the glue.
Of course, once the kids were done, I had to try this out for myself. There was extra puffy paint, so I made my own snowman as well. Here are our three creations before they dried. (FYI – when it dries the snow puffed up even more. I was very impressed.):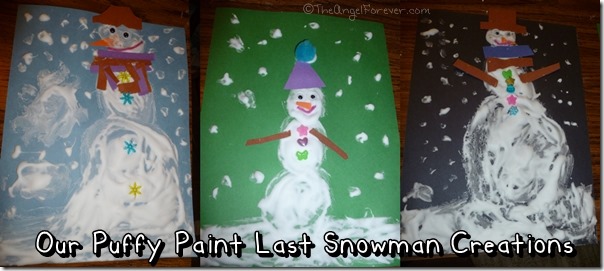 Giveaway Time:
Now that you can make your own Last Snowman with puffy paint, would you like to win a prize courtesy of author JC Little and her sponsors? Here are the prize details: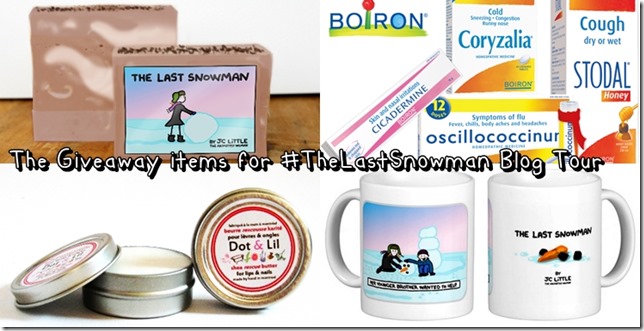 Author JC Little is giving the winner a paperback copy of The LAST Snowman. In addition to this, she is adding in a cute mug from her Zazzle shop that will feature illustrations from the book. As she notes, it will be perfect for a little hot chocolate after playing in the snow.
…and sponsor swagstuff. I'm so proud to offer this to your readers in both the USA and Canada! These are brands that I use myself all the time and I believe in them. – JC Little
Boiron will including a winter-themed swag bag with items that are specifically for the cold and flu season like Oscillo, Coldcalm, and Chestal.
Dot & Lil have designed a custom soap just for The LAST Snowman blog tour. The winner will receive a limited edition "Hot Chocolate Swirl" soap! It will be chocolate scented and have chocolate soap sprinkles on top, with the book cover design on the label. In addition to this, their gift bag will include Shea Rescue Butter for lips and nails.
Rules for Giveaway:
MAIN RULE – If you had to design your ideal Last Snowman, what would he or she look like? Tell me what they would be wearing and other details about their personality.
The following Bonus Entries may also be done. Please be sure to leave separate comment each time you complete this item.
1 Bonus Entry – Tweet about the giveaway using the share button. Be sure to include @TheAngelForever and #TheLastSnowman within the message. Also feel free to thank the giveaway sponsors @BoironUSA and @DotandLil. You may do this entry twice a day.
1 Bonus Entry – Head over to say hello to The Animated Woman and check out the other blogs participating in this tour. Leave her a message and let me know that you did this in the comments below.
1 Bonus Entry – Draw or paint your own Last Snowman and share it via Instagram (if you do multiple snowmen or the kids do…share each one and enter below for each of your creations). Be sure to tag me @TheAngelForever @TheAnimatedWoman and #TheLastSnowman. When finished come back here and share a link to you picture.
Please follow the rules above within the comment section. Giveaway begins February 4, 2014 and ends February 10, 2014 at 10:59 EST. You do not have to be a blogger to enter, but must leave a valid e-mail address for me to contact you once the giveaway is over. I will select the winner using random.org and contact you via e-mail. You will have 24 hours to claim the prize. If there is no response, another winner will be selected. Open to US and Canadian residents only.
So get your paint brushes ready, make a snowman, and be sure to enter the giveaway thanks to JC Little and her sponsors.

Additional Disclosure: I wrote this post to participate in The Last Snowman Blog Tour because I love JC Little and wanted to share her success with my readers. I received a copy of the paperback book (which is gorgeous) and all opinions are my own. No other compensation was received and all giveaway items will be sent from JC Little and her sponsors to the winner.