TechyDad and I decided years ago that we were going to send out New Years cards to our family and friends. This covers Chanukah, Christmas, and everything else for pretty much everyone that we know.
Of course, there is another perk with this. When we are slower getting the cards made, they are not late . . . win-win for everyone! This year we had a photo shoot with the boys in their Toy Story pajamas. NHL wanted to wear the Woody ones and JSL selected his Buzz Lightyear. Here is our holiday card for everyone: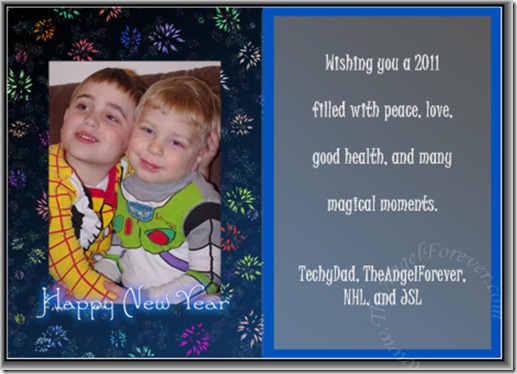 So my question to you this week:
Do you send out Holiday/New Years cards to family and friends? If you do where do get them from?  (Ours were purchased from Winkflash)
Please be sure to stop by and enter my Family Taco Night giveaway and also check out TechyDad's WikiReader giveaway.
_____________________________________________________________________________
Thanks to Kailani at An Island Life for starting this fun for Friday. Please be sure to head over to her blog to say hello and sign the linky there if you are participating.
Aloha #131