The weekend has come and gone and the 2011 Disney Social Media Moms Celebration is now over. As I sit here at Walt Disney World with my family, it is hard to wrap my brain around everything that has taken place. Over the next few weeks, or longer, I will share items with you.
The speakers taught me a wealth of information that will help me with my blogging, freelance writing, and life in general. I also met so many amazing people over the weekend and wish I had time to see even more of my social media friends that were at Disney. I only wish I had taken some more photos of everyone there. Here is a special one from after Illuminations Saturday evening.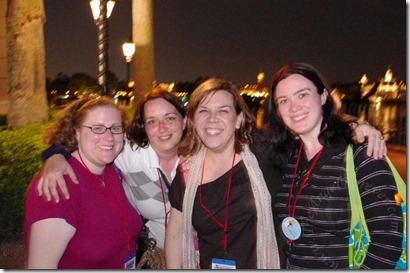 A special thank you to Leanne, Laura, and the rest of the Disney Social Media Moms team that helped to make this magical event a reality. It was a pleasure being a part of this experience and getting time to meet both of you. Thank you for the photo during the Disney Junior Party, it meant so much to me.
There is so much to share, but for now I will spend time with my family and enjoy time here in beautiful Florida.
Disclosure: Although we paid for our own trip to Disney World, we were given an incredible deal thanks to Disney. The sweet conference fee included 3 nights at the Grand Floridian, several meals for the entire family, 7 day park hoppers for everyone, conference/meals for me and some other items to take home. Also note that Disney never asked us to blog about this event. As a long time Disney fan it is my pleasure to share my experiences from the event.