The first time that we took the boys to Walt Disney World, they were beyond excited. We made reservations to begin the trip at Chef Mickey. Before I knew what was happening, both of the boys were cowering away from the characters. Yes, the kids were scared of Mickey, Minnie, Donald, Pluto, and Goofy.
On that trip NHL eventually warmed up and was able to get autographs and photos. JSL, would clutch to us for photos. Then, on his second birthday we had dinner at The Crystal Palace. A break through moment occurred. JSL went over to his favorite, Tigger, and honked his nose. It may not seem like much, but it meant a lot to us.
Last year NHL was a character pro and eager to meet and greet everyone. JSL was willing to go, if one of us went with him. We had no idea what we would experience with him this year. To our surprise JSL runs up and bear hugs the characters. When he has to leave from his turn with them, he will hug and kiss them as his way to thanking them.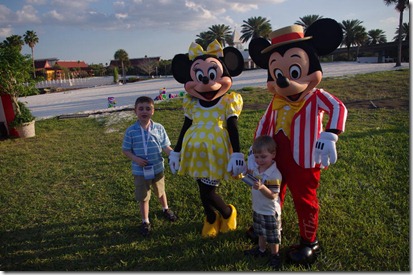 We learned not to push the issue and let the boys ease their way into seeing the Disney favorites. Many more memories and photos to come soon.
Disclosure: Although we paid for our own trip to Disney World, we were given an incredible deal thanks to Disney. The sweet conference fee included 3 nights at the Grand Floridian, several meals for the entire family,  7 day park hoppers for everyone, conference/meals for me and some other items to take home. Also note that Disney never asked us to blog about this event. As a long time Disney fan it is my pleasure to share my experiences from the event.