Mommy time with my little guy is something that I cherish while he is still in nursery school only a few days a week. On Monday morning, JSL and I went to a special screening of the movie Rio. The movie will be in theaters nationwide tomorrow, so we were very lucky to have the chance to see this early. Just before leaving, I showed my little guy a trailer of the movie and he jumped up and was ready to leave. As a person that grew up with pet birds, I was excited to see my feathered friends depicted on the big screen.
When we arrived at the theater, we found out that it was going to be the 3D version.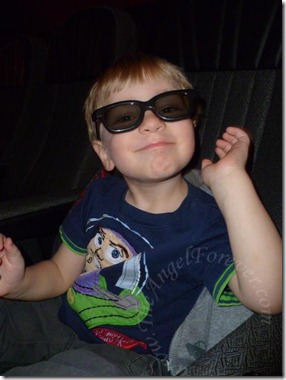 I was a bit worried about this. You see, JSL is not a fan of 3D films. Thanks to items at Walt Disney World, we learned this the hard way. On our last visit, JSL went into 3D venues and watched without his glasses on. Rio was my first movie experience in 3D since it has come back on the scene in theaters. I was excited, but nervous about JSL's reaction.
Warning to parents: If your child is not a fan of 3D films, beware of the Ice Age short that plays before the movie. This scared JSL and I was afraid that we were going to have to leave. Much to my surprise, the short utilized 3D tricks with things jumping out and a lot of loud crashing/banging noises. Thanks to this, JSL refused to put the glasses back on for Rio and watched it sans 3D. This made me sad because the movie experience in 3D was gorgeous and really made you feel like you were in the rain forest of Brazil with the menagerie.
More about Rio:
Here is one of the trailers of the movie so you can get get a feel for what it is about.
What we thought:
Even if JSL watched the movie without his 3D glasses, he never moved a muscle. The story line, characters, and music kept him watching from the moment it started. I caught him dancing in his seat a few times (as I begged him to try his glasses again). After the movie, he told me that he wants to go and see it again with Nana, Papa, NHL and TechyDad. I have a feeling this wish will likely be granted soon.
I love, love, loved Rio! Yes, I laughed out loud, caught myself dancing in my chair, and already plan on buying the DVD. Rio is a lively, fun film, that appeals for all ages. Unlike some other movies targeted for kids, I do not think any of the scenes are that scary. Yes, there are dramatic parts – but it is set up in such a way that younger children will not really get what is happening to our new bird friends.
The music and voices of the actors in the roles were perfect. George Lopez made Rafael pop on the scene. His timing and sense of humor were just right for this important Tucan. Although I really adored all of the characters, I found myself strangely fixed on Nigel the cockatoo. The unlikely villain of the film reminded me a lot of my parent's cockatoo Whiskers.
Nana and Papa already had bought the boys Rio stories and coloring books. I do believe that I will be adding the soundtrack since it was so much fun. I especially laughed at Nigel's song Pretty Bird.
Do you plan on seeing Rio? What are you looking forward to most about the movie?
Disclosure: I received complementary passes for two to see the pre-screening of Rio from the PR agency releasing the movie. No other compensation was given and no review expected. All opinions expressed in this review are 100% mine.