Weather seems to be in the news a lot lately. Throughout the United States, people have been dealing with severe weather of all kinds. My heart goes out to the people in the flooded areas fighting to save their homes and to those picking up the pieces after the deadly tornadoes.
As I pulled into the driveway Wednesday afternoon, the sky changed from sunny and bright to ominous. It was in the mid 90's, but the wind started to gust. I will admit that I was unaware that a storm warning was in our area. We packed the kids into the house and got them out of their swimsuits and decided to relax in the cooler house.  As I was sitting and doing some work, I heard thunder, saw lightning flickering outside, and then chunks of ice were slamming against the house. Yes, chucks of ice.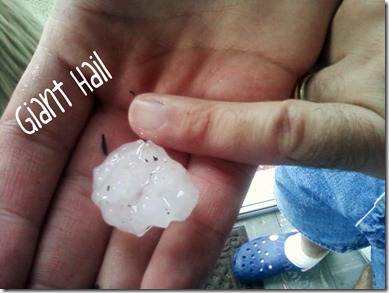 TechyDad was able to get the one above when he ducked outside our front door to snag it to show the boys. A little while later, the sun came out and I went outside to look around for damage. Even though it was still close to 90 degrees, there were still good sized chunks of hail in the grass.
I went to check on our vegetables that we outside. Luckily, everything looked pretty good. We were a bit nervous since hail destroyed cucumbers and tomatoes a few years back.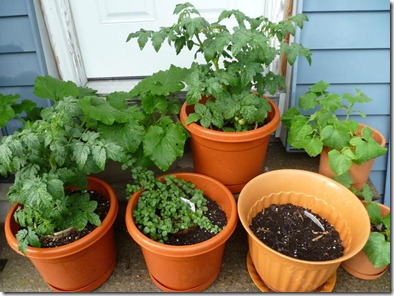 When I went back around the front, I decided to take a photo of one chunk of ice and then next to my foot to show the difference.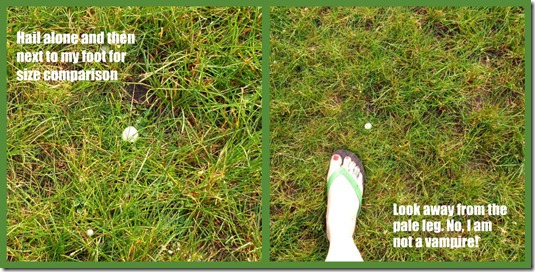 Yes, we get hail from time to time in the Capital District area, but not like this and several times in a few days. Thank goodness everyone was safe and sound. Now we just hope things settle down across the country for the rest of the summer ahead.
My question to you this week:
Do you like summer storms? Would love to know why you do or do not. Please share any unusual weather you have had near you.
Pssst . . . be sure to stop by my Dove Men + Care giveaway along with TechyDad's Kung Fu Panda giveaway to enter for a chance to win some great items.
____________________________________________________________________________
Thanks to Kailani at An Island Life for starting this fun for Friday. Please be sure to head over to her blog to say hello and sign the linky there if you are participating.
Aloha #155