Summer break is finally here. We try to spend a lot of time outdoors playing, running, biking, and so on. Of course, we also make sure to read. The summer is the perfect time to rest/cool off at the end of a busy day and read a book. We own a lot of books, but the boys adore going to our local libraries. A field trip to the air conditioned library means time to play, read, check things out, use computers, and catch up with friends.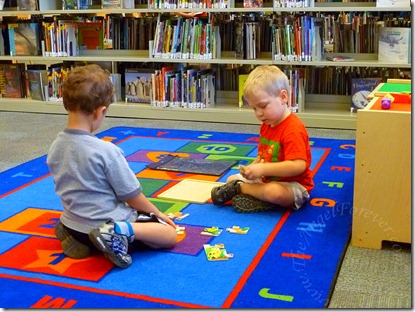 As a child, I have so many memories from summers with my neighborhood friends. I remember when our local library started doing a summer reading program. Our parents would take us to the branch to sign up, and we would go back each week to write in what we had read. As we got older, we would often walk to the library, have lunch on the way, and make an afternoon of the experience.
For our first day of vacation, I took the boys to the library. I had already signed NHL up for the elementary aged program. Once he reads books, he can log in and record the titles that he has completed. For every five books that he read, he will receive some sort of prize. NHL is finally into chapter books. He has finished two of the A to Z Mysteries, read JSL several picture books, and started one of The Boxcar Children books. I am so proud of how he loves to read and is trying items out of his comfort zone.
JSL was able to sign up for the pre-reader program. You receive a calendar and mark each day that you read 15 minutes to your child. This is not hard for us to do and JSL seems very intrigued. When we got back from the library, he begged me to read him three of the books we took out. The boys are also excited about events that are taking place at many of the library throughout the summer.
So did you participate in a summer reading program as a child or are your children doing one this summer? I would love to know all about them.
What have you read recently? Please be sure to link up to your Book Posts, and/or leave a comment below. Include something you read on your own, with a child or someone else. Tuesday Tales are all about spreading the love for books.