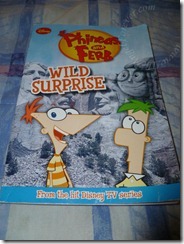 This summer, the boys and I are participating in a reading program at the local library. Thanks to this, NHL has been highly motivated to read books. What's even better, he likes and is intrigued with chapter books. This has not always been the case.
In the past, I bought him books like the Phineas and Ferb one seen here, but he was too upset about the concept of chapter books.
It has been exciting to watch NHL devour different series of books over the last few weeks. I love seeing the excitement in his eyes as he announces he has finished another chapter.
My last Disney Driven Life post was Summer Reading With Disney. I wrote about NHL's fears about chapter books, things we tried, and shared some great resources from Disney. Did you know that they have a website where you can search for titles based on age of child, categories of books, and featured characters. They do and you can read about it on my post.
Please stop by to say hello and check out the other magical posts from my Disney Drive Life friends. My other posts there can be found under NDM183 – that's me!
Before I go, I wanted to share a fun video that I love featuring Phineas, Ferb, and Regis Philbin. Yes, THE Regis Philbin sings a Phineas and Ferb song. Oh and Neil Patrick Harris also has a small part in it.
Are you Phineas and Ferb fans? Let me know if you have a favorite character on the show.