Dear NHL and JSL,
Sometimes surprises are the best thing. Wednesday, we went and picked up Daddy for lunch to celebrate NHL's birthday together. After lunch, we were going to go shopping for a few things, but then I had an idea. I thought we would head over to one of your favorite ice cream spots. Both of you love Scoops because they have amazing ice cream and you can watch the cows while you eat. When we pulled up, they were closed. I guess I did not realize that they are not open during the day mid-week.
Not to worry. I quickly recalled that a cake shop was right down the road. We had seen their truck over the weekend at a Farmers Market. We did not buy anything from their colorful truck because cousin SG would not be able to eat anything. Your disappointment over the ice cream quickly went away when we pulled up to Sweet Temptations and went inside.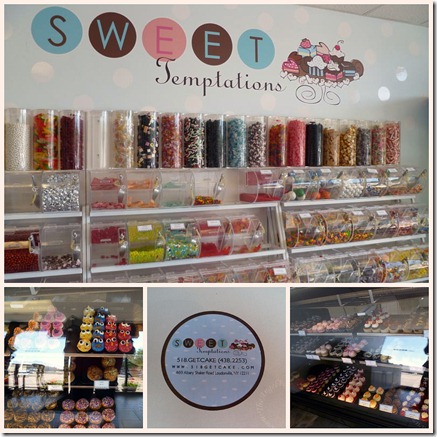 Since it was a special occasion, I told the two of you to pick whatever you wanted from the case. Dangerous thing to do, but I had an idea what you may select. Here is a look at the items that we brought home.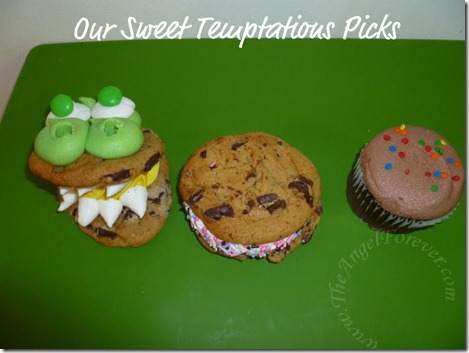 NHL, you immediately homed in on a dragon creation. It was two chocolate chip cookies combined with a large amount of icing inside it's mouth and on top. When I picked it up out of the box, I was floored with how heavy it was. There was no doubt that you loved it since you kept "mmmmmm-ing" as you ate it.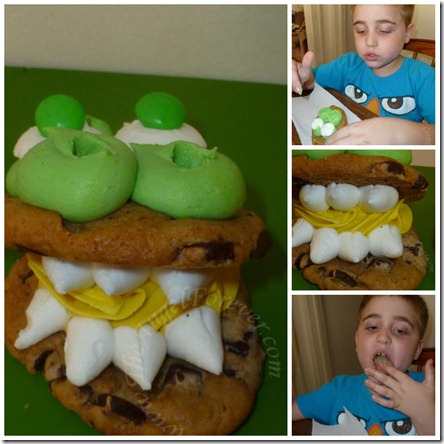 JSL, you had one item in mind. You wanted something chocolate. It was the chocolate cupcake with chocolate icing, of course. One minute I saw the cupcake in your hands, the next it vanished. Since you were the only one that tried it, you must have really liked it since I have never seen you gobble up a cupcake like that.
Since Daddy was not with us, I did not have any idea what kind of cupcake to get him. After making cupcakes all weekend, I was in the mood to try something different. I opted to get the cookie sandwich to share with him. YUM! The chocolate chip cookies were gooey, fresh, and amazing. The frosting inside was the perfect amount and not too sweet. Half was the perfect amount for me to splurge on.
Little surprises like this during the summer have been so much fun. I hope that we get back to Sweet Temptations again soon to show Daddy all of the fancy cupcake creations that they have.
Love,
Mommy
_______________________________________
If you want to participate in Dear Kid Saturday, head on over to Cutest Kid Ever by clicking on the button below.