Back in July, I wrote about eReader envy. I mentioned that I really was curious about owning an eReader, but there were just too many other items that were higher on the need to take care of priority list (owning a house is the pits). At the time, I introduced you to Pod.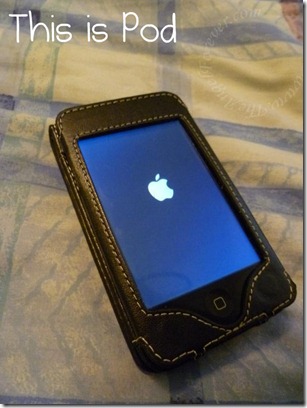 I inherited Pod from my mother and father. Pod had a good life with me and taught me the joys of reading on eReader-like format via the Kindle App. As the summer moved on, Pod and I started to drift apart. You see, Pod was not keeping a charge very well. The boys would take her with a full charge and soon after she would be flashing red. Now, I have to head over to the Apple Store to see what my options are.
That could have been the end of things, but my eReading life forever changed the other day. Just before Rosh Hashana started, I caught a Tweet that was sent to TechyDad. It was congratulating him on winning a Kindle. I ran screaming into the other room to tell TechyDad about it and let him know that he had a short amount of time to claim it or another winner would be selected. Last Friday night, just before Yom Kippur was about to begin, the doorbell sound let us know there was a package outside.
This was inside the small box waiting outside:
I am in love! TechyDad won the Kindle Keyboard, Wi-Fi, 6" E Ink Display
and it is amazing. Now, I wonder why I never asked for one for my birthday, Chanukah, or any other time. The light weight nature compared to a book, the no glare easy to read screen (compared to Pod), and ability to take multiple books with me at all times. Yes, I still like my paper books, but oh my this is fantastic for on the go and will rock when traveling. I even tried the Wifi the other night to use Twitter and see my blog. A bit of a pain without the touch screen option on this model, but it is there in a pinch.
Over the weekend, I was able to borrow a book from our library system for the Kindle to start reading. I decided to start with The Geeks Shall Inherit the Earth: Popularity, Quirk Theory, and Why Outsiders Thrive After High School
by Alexandria Robbins. More on this coming soon since I think it is an extremely powerful read that ALL educators and others should check out. I also tried a picture book for the kids to check out. No, it is not in color, but the boys still adored Dream Big, Little Pig!
by Kristi Yamaguchi. Here is a preview of what they saw: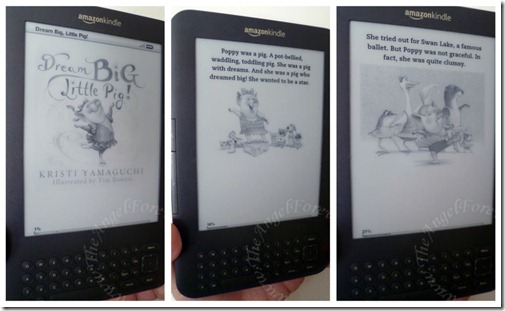 I am looking forward to reading more thanks to the Kindle and hope to figure out more of a book list soon. Another item to toss out there, Kindle's technical support has been amazing. A few glitches have cropped up and getting a human to solved the problem has been quick and easy. A huge thank you to Amazon for this important piece of the puzzle.
Do you have an eReader or Kindle App? I would love to know what you think and could use any book suggestions that you have loved in this format.
What have you read recently? Please be sure to link up to your Book Posts, and/or leave a comment below. Include something you read on your own, with a child or someone else. Tuesday Tales are all about spreading the love for books.

Disclosure: We won the Amazon Kindle from a blog giveaway. Three product links are to our Amazon Affiliate where we will receive a percentage of money for the sale of the books should you opt to buy the Kindle or books mentioned.