I am a child of the 80's, although I was born in the 70's. I remember the birth of cassette tapes – although I still recall using the 8 track player that my father had to listen to the Muppets Show soundtrack.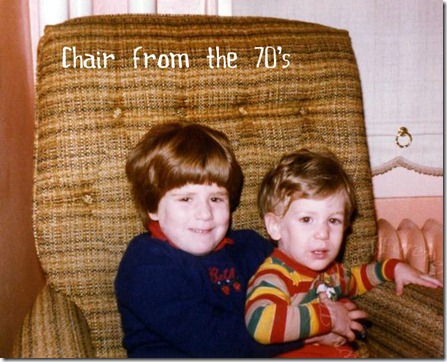 My aunt and uncle had a VCR before we did. I would go over there and spend hours watching a tape they made especially for me of Barry Manillow in concert. You see, I would blush because he was singing just for me. We eventually got our own VCR (it was huge and heavy) and life definitely changed in our house. Thank goodness I grew out of my Barry Manillow video thing, and matured into his cassettes and ditched him for Billy Joel, Elton John, Paul Simon, and even the voiced behind Milli-Vanilli when CDs came onto the scene.
We eventually got our first family video camera. This bad boy was huge and I remember my father lugging it to school for my elementary school lip sync show. Not sure if my mother ever used it or not. I do not think so since it had to be balanced on the shoulder and weighed so much. Oh, did I mention there was also a separate bag that held the machine that was recording the video? This dinosaur should have been in a museum. This is a photo of my father with that camera (I think). You can see the cords running from the camera to the bag on his other shoulder.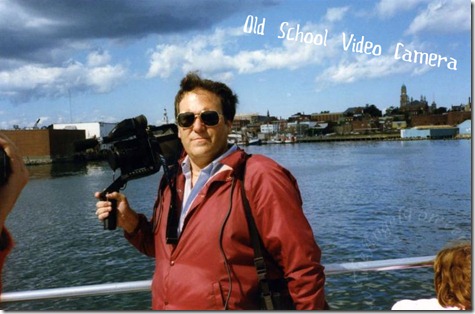 Fast forward to March 2011 when TechyDad and I decided to buy our own video camera. We had been given a hand-me-down from my aunt and uncle, but digital cameras were not the norm. We were going to Disney World and wanted to be able to have something to capture those memories that we had missed over the years, or were on the video option on our point and shoot cameras. Oh and I was already looking at vlogging and video review options for my blog. We asked around and decided against the Flip and went with the Kodak.
I am in love with this little camera. She has gone with us to Disney Social Media Moms Celebration where I captured one of my first videos of Susan Egan and Georgia Stitt performing. We also caught the boys running up to Tigger and Pooh, meeting with the Princesses, opening their first Vinylmations, and more magical moments.
My handy dandy camera has also been tossed into my purse for blogging adventures, conferences, and school functions. Since she is so easy to use, I also have learned to love using her for recording fun messages on my blog and of course to review items. Another perk, she is small and light enough for the kids to use – should we want to let them take a try at making a video down the road.
Thanks to my recent experience at SheStreams, I plan on using her a lot more. Hmmm…. perhaps I should name her. So I am asking all of you for some assistance. What should I call my amazing little camera? She has many more adventures ahead and we have so many things to accomplish now that my goals have been reset and revamped. So please let me know your thoughts and please keep it rated PG. I refuse to talk like a hockey player about a cute little camera.

P.S. Don't forget to enter my three current giveaways (1) Real Steel prize pack, (2) Star Wars Cereal and $25 gift card pack, and (3) Three copies of the book The Girl Who Never Made Mistakes.