Imagine a box arrives at your house for an amazing event and you have to hide it from your children. Yes, that was me for the past week or so. The other day, I walked outside and a package had arrived. I managed to divert their attention away and brought the boys to school. When I got home, I opened up the box.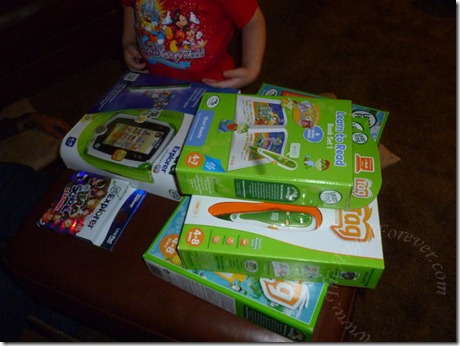 Yes, these were the items sent to me for hosting the "Learn, Create & Share" Party from LeapFrog. As an educator, I love toys that actively engage kids in learning – especially literacy skills. On Sunday, we finally opened up all of the items to check them out. We wanted to make sure they were ready for the party that I am planning. Here is JSL to introduce you to the first item. Warning: 4 year old boys know how to scream when excited!
The poor kid had so much excited energy, he could hardly wait while TechyDad worked on opening the package and getting everything ready.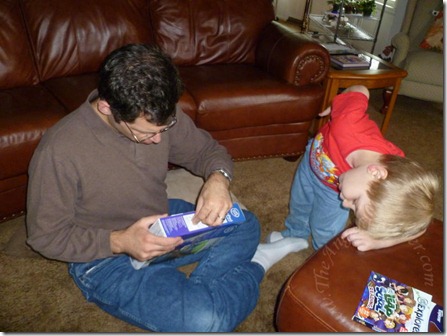 To keep JSL busy while TechyDad worked on getting everything ready, we made another video. Here is JSL showing the other items that arrived thanks to LeapFrog.
It took a little while, but eventually the LeapPad was open and all three of the boys crowded onto the couch to check it out (I will play once they are in bed). They kept looking, checking, exploring, and trying the apps that were on the LeapPad.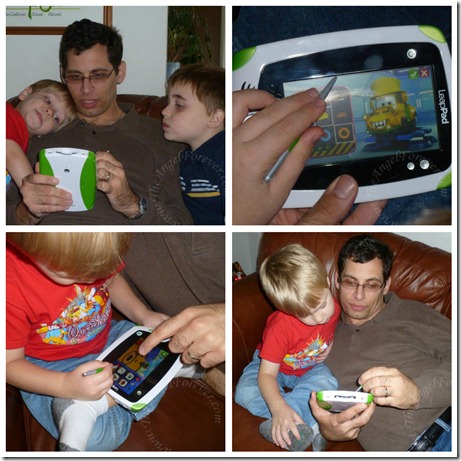 Do you have a LeapPad? If you do, I would love to know what you think or any specific items that I should make sure to try with my boys. So far they have found a lot, but there is just so much more. I have a feeling this will be a hot toy this coming holiday season, so if you have any questions – just let me know in the comments.
More coming soon on the items, including video reactions of trying everything out. Now, the planning may commence for our "Learn, Create, & Share" Party.

Disclosure: As a long time LeapFrog supporter, I applied and was selected by Mom Select and LeapFrog to host a "Learn, Create, & Share" party. They provided me with all of the items shown above. The opinions are all mine and no other compensation was received. More coming soon about the party soon!