At nursery school, JSL has been creating a lot of items especially for Rosh Hashanah. The class has a display in their room of shofars that each of the kids made. I can not recall which of the ones was his. My guess is that it was one of the predominantly blue ones.
The kids got to see a shofar up close and even heard the rabbi practice  the blasts before the holiday. Earlier in the week, a bee keeper came in to visit the classes. At the end of the day, the kids were allowed to take a piece of bees wax home with them.
As we walked out of the building, I noticed that most of the kids had their noses to the wax. Silly me, I had no idea what it was all about. Even JSL got in on the act when we got to the car.
Of course, when we arrived home I had to check it out myself. OMG – it was sweet like honey and smelled amazing. I was most definitely in love with this scent and so were all of the kids.
Since apples and honey are big for the holidays, the kids were making a lot of apple art. JSL arrived early one day and jumped right into his. I have to say, if they had allowed blue, his apple may have been that color.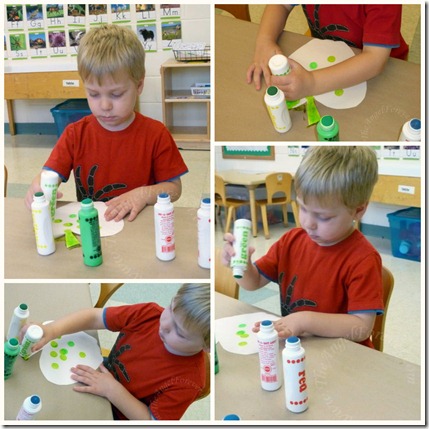 Wednesday night, we went to celebrate the start of Rosh Hashanah with Nana and Papa. JSL and I picked out some of the apples that we got on his field trip the week before. They were perfect and ready to go with the honey that Nana got from a coworker.
We also had round challah with raisins on the Halloween table cloth (kind of funny no?!) and both of the boys helped to say the blessing.
Now I look forward to seeing how JSL learns about Sukkot and the rest of the holidays this year. He gets so excited and I can not wait to watch as he learns about our traditions.
How do your children embrace your holiday traditions? Feel free to share some of what your family does for any holiday that you celebrate.