Dear NHL & JSL,
Once upon a time, in a galaxy within our reach – there was a Disney Store at our local mall. Actually, before the two of you were born, we had two of them. Then they closed one to centralize everything. Just around the time JSL was born, the remaining one closed its doors for the last time. It was a place that we often went to. We were able to be with Disney and have a fun time. Now, the closest store is several hours away.
A week ago, Shannan and I went to to the Disney Store in NYC on one of our breaks during the SheStreams Conference. To say that I was in heaven would be an understatement.
There was so much to look at in every corner of the two levels of the store. The Phineas and Ferb area immediately got me to check everything out. I now wish I had bought you both something.
There were endless amounts of the Disney Princess items. Those areas of the store were gorgeous, but my attention went to places like the gigantic Toy Story section. So many possibilities that my head was just spinning.
I joked to Shannan that the two of you would not have known where to go next. I think the Marvel area would have kept you there for a while. Lots of Spiderman, Ironman, Captain America, Hulk, and friends. I will say, I am sad that I didn't get you each one of these: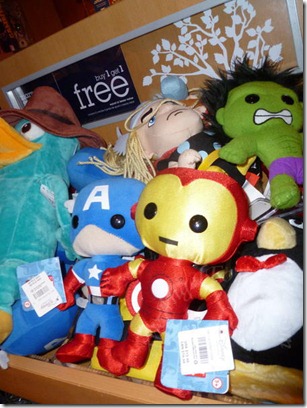 Back on the first floor, I found what I was looking for. There was a giant display of Vinylmations. I knew this was what I was going to bring both of you and Daddy. I bought each of you a Lion King box to open at home. Then, I saw the NYC Cab series that are only available in this store. I picked one of those tins for Daddy. Then, for the heck of it, I grabbed a Muppet Series 2 box.
Oh, I also stopped myself from picking up one of these for each of you:'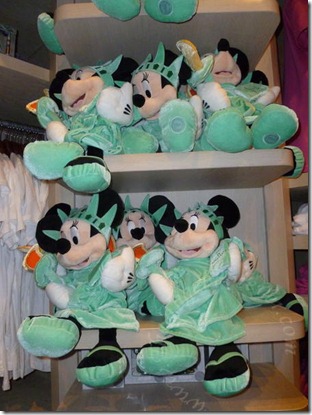 The reason I stopped, I want to head to NYC on a train with all of you for a fun day that includes a stop at the Disney Store.
When I got home and started to unpack, I had the bag from the Disney Store ready to go. The two of you were thrilled with the new Lion King packages. I do not think you were aware that they existed. Daddy was very happy with the two he got as well.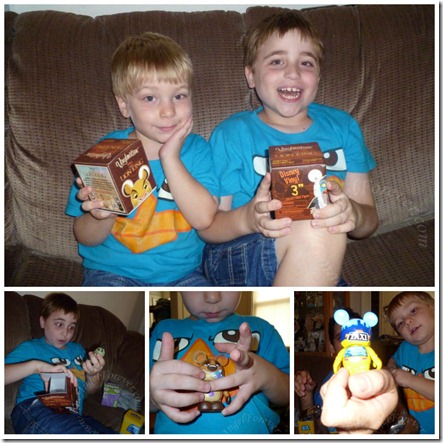 So now we just have to figure out a time to take the train to the city for a fun day together. There are a ton of places that we HAVE to go to and the Disney Store is just the first on a long list. Now if only we would get our Disney Store back here.
Love,
Mommy
__________________
If you want to participate in Dear Kid Saturday, head on over to Cutest Kid Ever by clicking on the button below.