As I have mentioned in the past, JSL is a picky eater. He does not like to eat breakfast, but prefers to drink it. We also have issues getting fruits and vegetables into his system. The other day at nursery school, I overheard another mother ask if her child had eaten cantaloupe for a snack. This mention of fruit for a snack perked my interest, so I asked about JSL. Sure enough he had eaten some.
Of course, with JSL, you never know if he will eat something on Monday and touch it again two days later. It's a guessing game that we have not figured out. TechyDad received an Edible Arrangements for a project that he worked on recently.
Saturday night, we pulled the fruit out of the refrigerator and wondered if the boys would walk away or want to try item. NHL immediately dug into the fruit and loved the fun.
Within seconds of everyone digging into the fruit, JSL saw something he recognized within the fruit bouquet. Yes, he saw some cantaloupe. Not only did he take it off, he ate several pieces.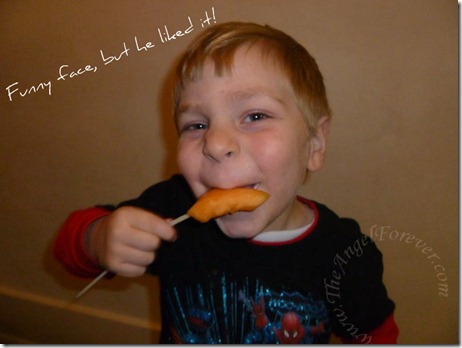 There must be something special about eating fruit off a stick. Hmmm….perhaps we should try this with some vegetables. What do you think?

Disclosure: TechyDad received this Edible Arrangements for a non-blogging related work project. It was a gift and we wanted to share what fun the boys had chowing down on fruit.