Days after the boys made Snowflake and Clumsy at Build-A-Bear, a request came from my little guy. He decided that his bear friend was cold and needed a scarf. Of course, what he really meant was that he wanted me to knit Snowflake a scarf. So what is a knitting Mom to do?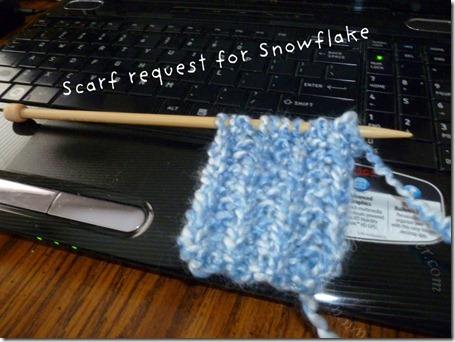 I just happened to have a little yarn left from making Cousin BA's scarf and it matched Snowflake perfectly. JSL could not imagine what was taking me so long to knit the scarf. I mean hello, it was not finished in 20 minutes! That night while he was sleeping, I captured Snowflake to measure and make sure the scarf was complete. JSL was surprised in the morning and declared that his friend must go out.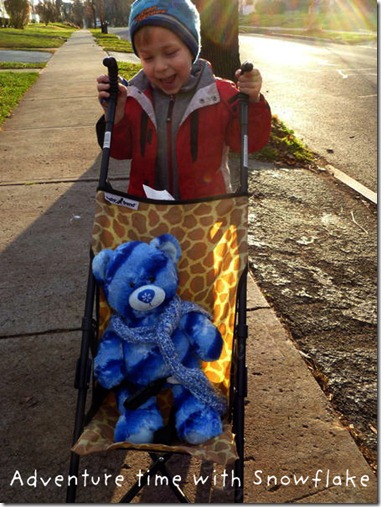 Yes, Snowflake went on some adventures since the snow had not started to fly. Of course, once Snowflake had a scarf, NHL declared that Clumsy also had to have one. NHL asked if I could make him a matching scarf since I had already started a new one for him. I was able to knit up NHL's new scarf quickly.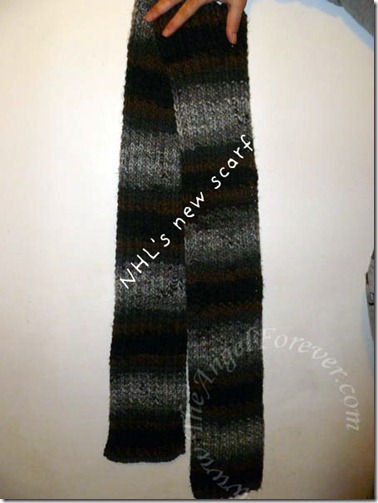 That night, I quickly used the rest of the yarn to make Clumsy his own scarf. Luckily, I had just enough to make it work. The result are two stuffed family members that are smiling and warm, plus two very happy children.
So have your children ever asked for something for their stuffed friends? Would love to know and hear your stories.

Pssst . . .other knitting posts of mine can be found here.