Last week, an e-mail from Build-A-Bear came to me. It was actually for my son. It was inviting NHL to come back to make a new friend. The coupon allowed him to get a free $12 friend, or apply it toward a more expensive one. After seeing The Muppets, we walked up to Build-A-Bear Workshop to see if there was anything that the kids were interested in.
Within a few minutes, NHL and JSL each had a new best friend that they wanted to make. It was no surprise to me that NHL wanted to make a Smurf and JSL picked the blue Winter Wonder Teddy. I had a feeling they might select these after I saw them at an event in NYC during SheStreams
After a short wait, we met with the person to help make our new family members just perfect for lots of hugging. She was amazing. This was not our first time at Build-A-Bear, but I have to say she really made this experience even more special. She talked with both of the boys, helped them to make the Smurf and bear just right.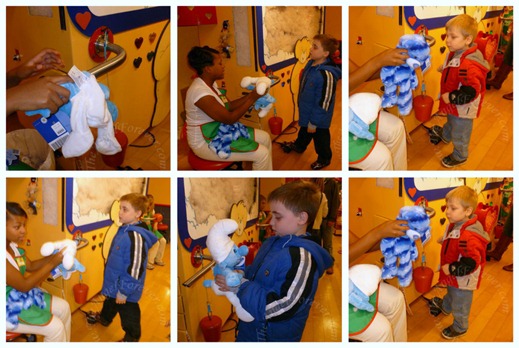 Then, it was time for the new family members to get their hearts. She had NHL and JSL do a cute dance routine when they gave their friends their hearts. After that, it was time to sew up their buddies to begin their adventure within the store.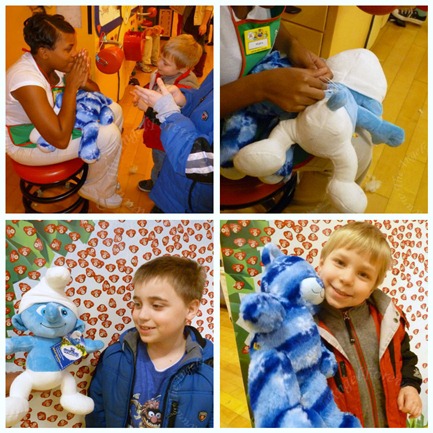 From here, it was time to clean our new Smurf and Bear friends. We spent some time at the area making sure that everyone looked just right before we went to the next part of the process.
Once the boys were done here, we went to wait on line to register our new family members. This was also the time that they received their names. NHL named his Smurf Clumsy and JSL named his bear Snowflake.
Once we had the certificates and paid, the boys posed for one last photo in the store. Then, we took everyone home to meet Spike and Puppy.
Of course, Clumsy and Snowflake are getting used to life here with us. Snowflake has already been on several adventures and those will be shared another day. Now, if only I had my own special Build-A-Bear of my own – *wink* *wink*